I'm really liking the Wine Enthusiast 21-Bottle Dual-Zone Curved-Door Wine Cooler. Today I'm going to review this model, looking at the features that distinguish it from competing products, the pros and cons of this unit, and finally give you my recommendation as an item to consider purchasing or not.
Product Features
First of all, I'd generally categorize this cooler as a highly versatile medium-sized wine fridge. It has a maximum capacity of 21 regular sized wine bottles, which probably puts it in the smaller range for medium-sized coolers. It's versatile due to different shelving options and the dual cooling zones, which allow for wine to be stored at different temperatures.
This model uses solid-state thermoelectric cooling technology. The upper zone can be set to 46-65 degrees F, while the lower zone can be set to 52-65 degrees F.
The top zone holds 2 racks of 3 bottles each for a total of 6 bottles. The lower cooling zone has 2 different shelf configurations. For maximum capacity, you can use the normal horizontal racks to create 5 standard rows of 3 bottles. This would make 15 bottles in the bottom and 21 bottles total for the entire cooler.
The other option is to use the special standing rack for the 4 lowest rows. With this rack, 4 bottles can be stored on their sides and another 4 bottles can stand upright. In this configuration, the fridge can hold a total of 17 bottles. While the total capacity is reduced, this allows for the storage of odd shaped bottles and also bottles that have been opened already.
There are independent digital temperature controls for each cooling zone. Interior blue LED lights, a smooth black exterior, and curved front doors all contribute to give it a highly modern look.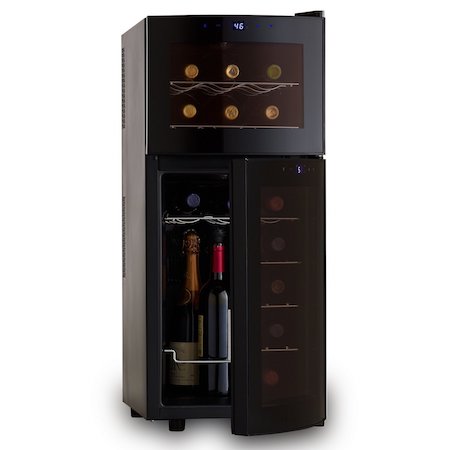 Pros and Cons
One of the strong points for this cooler is obviously the ability to adjust the interior of the bottom zone to a configuration that suits your needs. For many wine drinkers a capacity of 17-21 bottles is more than enough to keep them happy. Tall bottles such as German Rieslings and wide bottles such as Pinot Noir can be accommodated when not using the maximum capacity setup. Also, when in the max capacity configuration you can easily fit 21 standard sized bottles without having to stuff them in ridiculously.
If you're worried about the effects of low humidity for long-term storage, there is a water tray you can fill to add moisture to the cooler's interior air.
Temperature controls are straight-forward and easy to use. And the actual cooling power is reliable.
The fans can sometimes make a bit of noise, but nothing to really complain about. As with all thermoelectric coolers, ambient room temperature and placement of the unit will have an effect on the maximum cooling achievable. If the air temperature in your home is 75 degrees, nothing you do will be able to help a thermoelectric cooler chill your wine below 50 F.
Buying Recommendation
I highly recommend this model if you're looking for a reliable dual-zone cooler and don't require super large capacity. A very serious wine collector might find the 21 bottle maximum capacity to be less than they need. But I think many individuals will find it to be more than plenty of space, especially if you're the type to replace bottles at the same rate that you drink them.
On the other hand, for the type of person who drinks red wine exclusively, there isn't any particular need for a dual-zone cooler, and you may be better of choosing one of the single-zone cooler models. If, however, you quite like the appearance of this Wine Enthusiast curved door cooler, you can always simply set the temperature for both zones to a suitable setting for red wines.

Review Summary
Reviewed by
Date
Item
Wine Enthusiast 21-Bottle Dual-Zone Curved-Door Wine Cooler
Our Rating