In today's wine fridge review we'll check out the NutriChef 12 Bottle Thermoelectric Wine Cooler. This a modest sized thermoelectric style cooler that will work as either a freestanding or countertop unit. It has a lot of great features and is a popular buy at the moment, so let's dive right into the details to see if this might be the right wine cooler for you.
Product Details
Let's start by looking at the size. This wine cooler is 9.9 inches wide, 19.7 inches deep, and 25 inches tall. This means it doesn't take up a whole lot of horizontal space, whether on your countertop or free-standing on the floor. Remember that you'll want to have a bit of buffer room between the rear of the fridge and the wall in order to get the most effective cooling from the thermoelectric unit.
This model has precise digital temperature control. Unlike some models, the controls are on the exterior so there is no need to open the door and let cool air escape if you want to adjust the temperature.
The 12 bottle capacity is achieved with 8 bottles positioned horizontally on racks and 4 bottles standing upright. This configuration makes it a little easier to store the occasional odd-shaped bottle. It also allows you to easily keep opened bottles cool.
The manufacturer backs their product with a one-year warranty. This is always a good sign because it allows you to buy with confidence.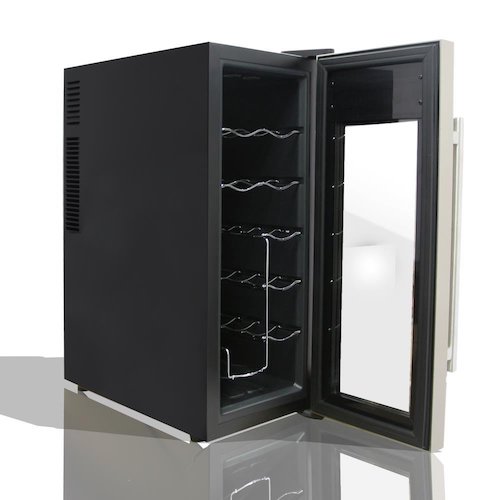 Pros and Cons
You can adjust the temperature between a range of 50-64° Fahrenheit (10-18°C). So long as you don't allow the ambient room temperature in your home float up above 75 degrees you can expect this unit to reliably cool down to whichever temperature you choose in this range. This will allow you to keep wine at the optimal temperature for long-term storage. You can also keep your red wines at your preferred ready-to-drink temperature. Furthermore, the cooling power is effective enough to even keep full-bodied white wines, such as Chardonnay, at a good serving temperature.
This model looks great with a genuine stainless steel door and interior LED lighting. Some coolers made by other brands go a little cheap by using metallic colored plastic on the door and handle instead of real stainless steel like we have here.
The fan runs quietly enough that you'll probably never notice it. And the temperature inside really holds nicely and doesn't jump around. This is the whole point with getting a wine cooler fridge in the first place, so this is really a strong point.
The only real downside I can see for this model is that it might not be large enough for some potential buyers. This really will depend on you and your wine-drinking habits.
If you are the type who collects a few bottles here and there, buys a few bottles when you visit the supermarket, but also tends to drink a couple bottles per week, then a 12-bottle capacity cooler will probably be plenty.
If you think you might want a little more space, NutriChef also makes an 18-Bottle Wine Cooler that is worth checking out. Aside from the larger capacity, the main difference with the 18-bottle model is that all of the bottles sit inside laying horizontally.
Buying Recommendation
Obviously, if you want a large wine fridge or a dual-zone cooler than this isn't the one for you. Otherwise, if you are looking for a super-dependable wine cooler with a 12 bottle capacity, this one should do the trick.
This is also a great wine cooler if you're shopping for a gift for either the holidays or someone's birthday. It's not so expensive as to break your budget, and yet they'll be very impressed with its looks and functioning. Also, the size really fits into that sweet spot where it doesn't seem like you're just getting the smallest or cheapest cooler and yet it isn't so large that they would have trouble finding a place to put it in their kitchen or living room.