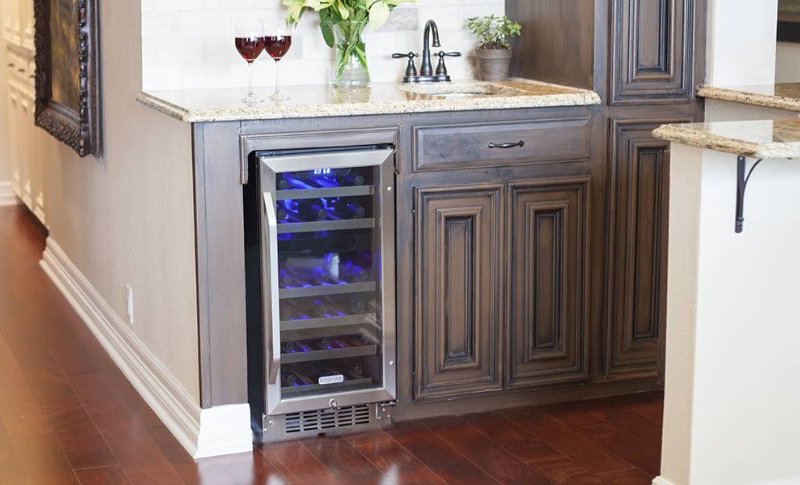 Looking for the best wine fridge to fit into a 15-inch wide space under your counter top? Let's review all the top 15-inch width wine cooler models.
Often it's easy to narrow down your home appliance choices simply based on the amount of room you have available. A wine fridge is a great addition to any kitchen, especially when you install a built-in model under your counter top to fit seamlessly with your cabinets. When remodeling your kitchen, you might decide to remove an old trash compactor unit, for example, and find yourself left with exactly 15 inches of horizontal space to fill. Naturally you're only going to focus on the wine refrigerators that fit to your specific size requirements.
Luckily for you, fifteen inches is a popular size for wine fridge manufacturers to use, and there are a number of quality models available. These range in capacity from 23-30 bottles and include both single-zone and dual-zone configurations.
The 6 models that we'll review here all belong to the compressor cooling technology group of wine coolers. As opposed to thermoelectric coolers, these compressor models can reliably chill down to temperatures as low as 40 degrees F without any risk of fluctuations due to increases in ambient room temperature.
Powerful cooling doesn't exactly come cheap. It's worth a small investment for something you can trust your precious wine collection to. The least expensive of these models comes in at just under $600, and the priciest is a bit over $900. Is the most expensive one worth the extra $300? Or would you be better off going with the cheapest of these 15-inch wide options? Let's look at these 6 cooling units in detail so that you're informed and better equipped to make a purchasing decision.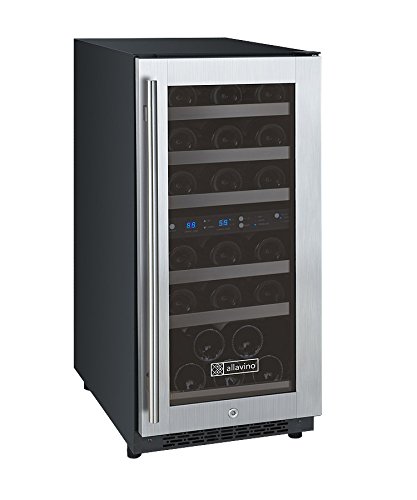 Product Details
Allavino gives us the most expensive of the 15-inch wide wine fridges, but it's also possibly the most attractive of the lot. It features a 30 bottle capacity with special shelving that is designed to achieve this amount of storage while accommodating a wide range of wine bottle shapes. Only larger Pinot Noir and Champagne bottles are going to cause you to lose out on storage capacity.
Dual-zone cooling compartments allow temperature ranges of 41-60 degrees Fahrenheit for the upper zone and 45-64 degrees Fahrenheit for the lower zone. Unlike some other dual-zone coolers, the two zones can't be set to the same temperature in this model. Rather the lower zone must be at least 4 degrees warmer.
Aesthetically, the Allavino looks good in stainless steel with a towel bar style handle. To be perfectly honest, all of the wine fridge models that we're looking at here have a similar appearance with stainless steel and black exteriors to be par for the course. It's mostly the style of the handle and details of the shelving that set them apart from each other.
The main advantage of this model is the flexibility of bottle shapes and sizes that the shelving can accommodate without sacrificing storage capacity. On the other hand, the fact that the lower temperature zone must be set warmer than the top zone can prove limiting. This is especially true when you consider that the shelf intended to hold champagne sized bottles is in the bottom zone. One would think that you'd want to chill these to a cooler temperature, so I would call this a major design flaw that could probably have been avoided with a little bit more thought.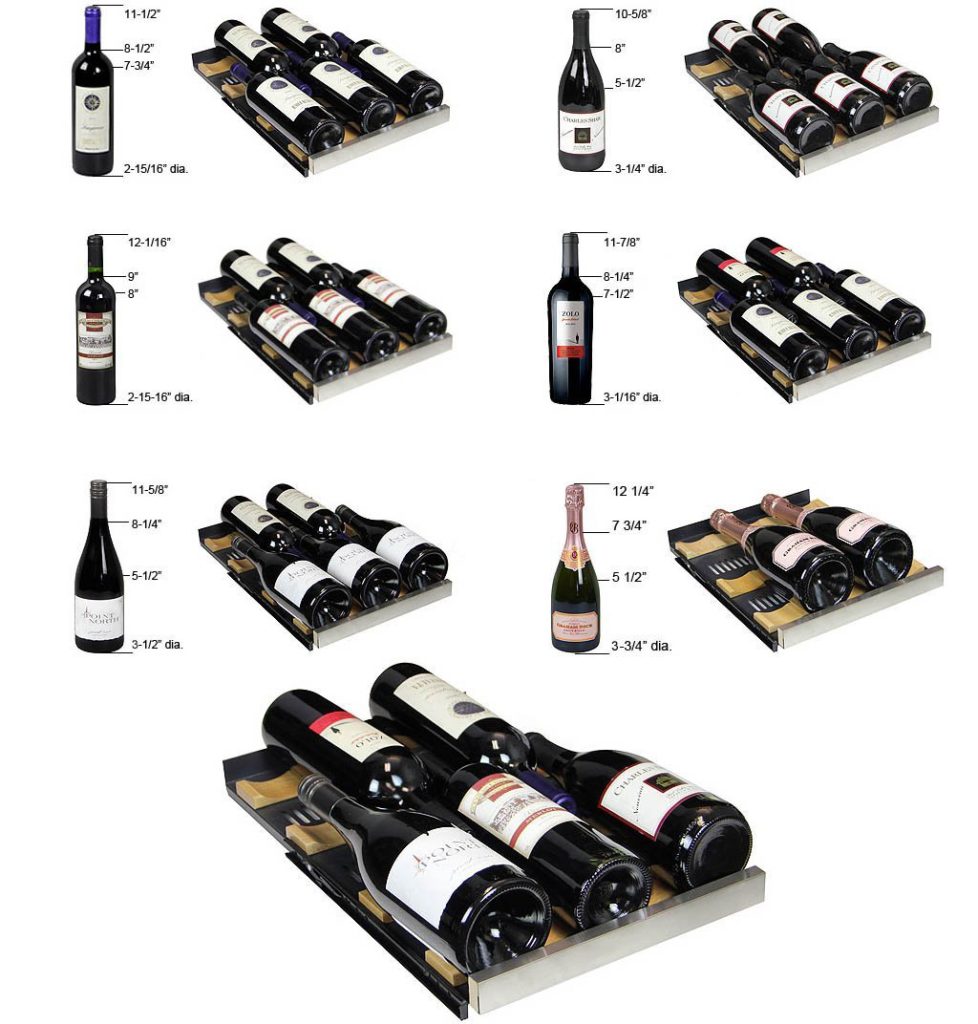 Pros and Cons
Accommodates many bottle shapes/sizes
Stylish handle
Dual-zone cooling
Lower zone must be warmer than upper zone
Most expensive model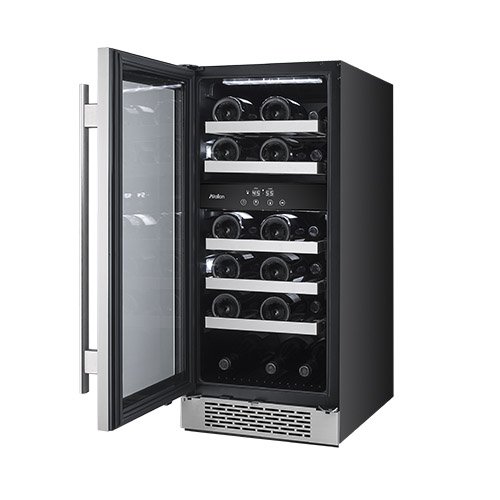 Product Details
The Avallon 15-inch wide dual-zone cooler is also a bit more on the expensive side. You can see from the construction of the shelving where some of the extra cost is factored in. The wooden shelves have stainless steel trim and smoothly roll out supported by telescoping braces.
The manufacturer only claims that it has a 23 bottle capacity. This is the smallest amount of all of the models here, but in fairness some of the other wine fridges can only get their advertised 30 bottle capacity when using all regular Bordeaux shaped wine bottles.
The upper cooling zone has a temperature range of 54 – 65°F, while the lower zone can be set to 40 – 54°F. This configuration makes a little bit more sense than the Allavino unit because the lowest shelf, which can accommodate wider bottles, is in the cooler zone, where you'd naturally store champagne. And if you are the type to drink only reds, you can still set both zones at the same temperature of 54 degrees.
If you want the two zones set to different temperatures, then keep in mind that the upper (red wine) zone can only hold a maximum 8 bottles.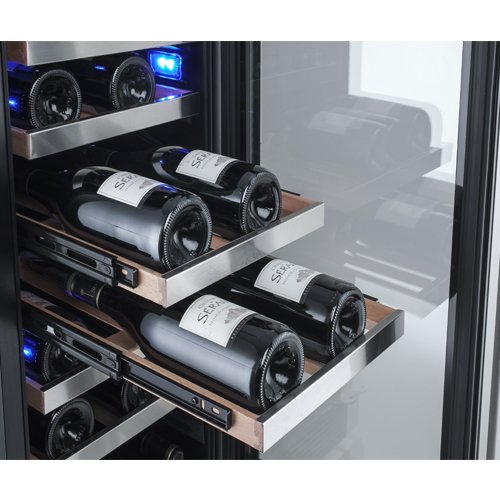 Pros and Cons
Available in Left or Right hinge model variations
Smallest capacity at 23 bottles max
Dual-zone cooling
Roll-out stainless steel trimmed wooden shelves
Upper zone 54 – 65°F, lower zone 40 – 54°F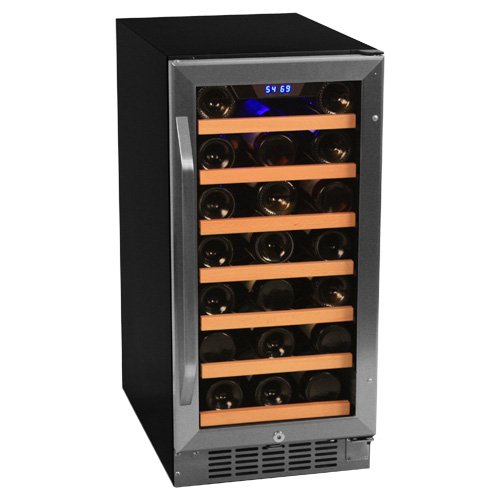 Product Details
This is the first single-zone cooler that we'll look at. These are generally nice to have if you're the type of person who predominantly drinks only red or white wine, but usually not both.
The temperature can be set within a range of 40-65 degrees F. With this model, though, you will usually need to set the temperature to 2 degrees lower than the actual temperature you want to achieve or it will never get down that low. This seems to me to be an engineering flaw. If the device consistently fails to reach the desired temperature then the manufacturer should have calibrated the difference into the temperature controls to eliminate confusion.
This is the lest expensive of the six models that we're looking at. The wooden shelves simply slide out, rather than rolling out like on the Avallon model. If you have any wider than normal bottles, you'll need to remove shelves to accommodate them, and this will reduce the fridges total capacity. If you're not using all standard Bordeaux bottles then 26 would probably be a more realistic capacity, assuming none of the bottles are wide enough to warrant removing a shelf.
The bigger issue is with the quality of the product. Some users have reported that the compressor begins to fail after 8-12 months of use. Repairing it typically entails a bill nearly equal to the price of the fridge. So remember that when you buy the cheapest model, you're not always getting the best value. If it needs replacing after a year, then it suddenly becomes the most expensive model in relative terms.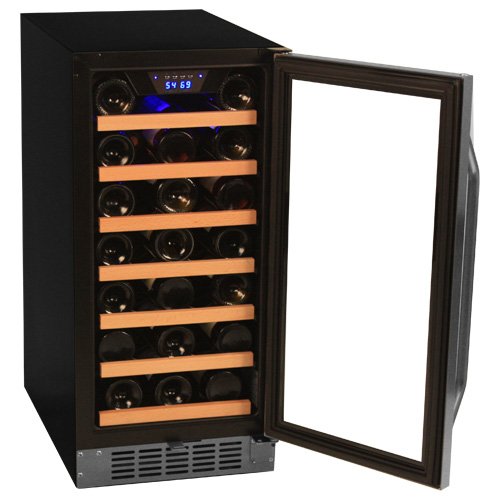 Pros and Cons
Can run noisy
Single-zone cooling
30 Bottle capacity
Least expensive model
Compressor durability issues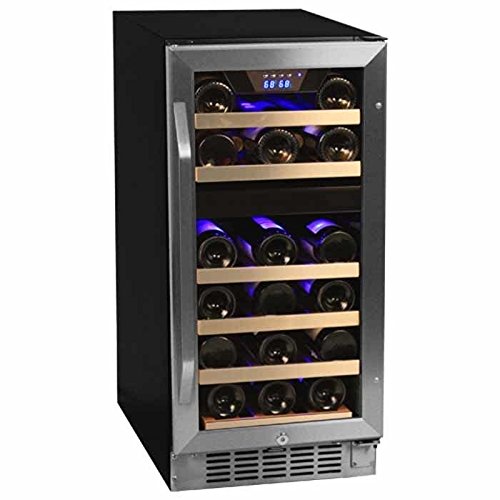 Product Details
EdgeStar has a second wine cooler model that fits the same 15-inch wide size category. The main difference between this one and the previous model is the dual-zone cooling configuration. Two separate refrigeration compartments allow you to chill various wines to different temperatures. The obvious use for this type of model is in order to cool red wines to a modest 54-65 degrees F while chilling white wines down to the 40-54 degrees F range.
The ability to control temperatures in two different cooling zones comes with a small price to pay. The overall cost of the unit comes out to approximately $100 more expensive than EdgeStar's single-zone model. In addition to this, the divider between the two cooling zones takes up the same height as one row of shelving. This leaves you with space for six fewer bottles, so that the total maximum capacity is 26 standard sized wine bottles compared to 30 bottles in the single-zone model.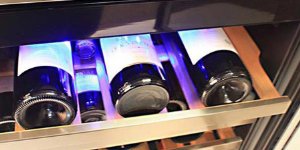 One limitation of this model when compared to other dual-zone wine fridges is the relatively small capacity of the upper storage zone. The configuration of this EdgeStar dual-zone fridge is such that the upper zone can hold a maximum 8 bottles, and that may be generous. Five bottles in the upper zone is more likely based on the design.
If you tend to drink white wine more frequently, then this might work out well for you. But many wine collectors will feel that this model doesn't provide ample space for their red wine.
Pros and Cons
Runs on the louder side
Reversible door
Dual-zone cooling
8 bottle upper zone, 18 bottle lower zone
More expensive than the single-zone model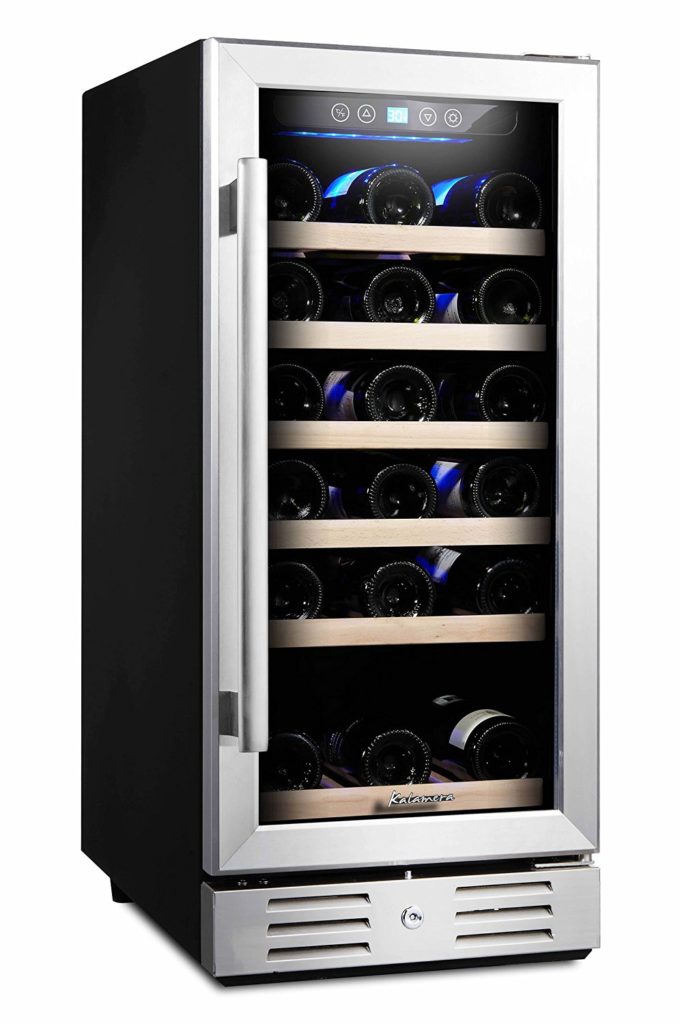 Product Details
Kalamera makes a number of great wine refrigerators, and this 15-inch wide model with a 30 bottle capacity is no exception. Like the others here, this unit features a stainless steel and black exterior look. Inside, we have 6 slide-out beech wood shelves. There's a bit of extra space on the bottom row for wider bottles if you choose.
The shelves seem a little lightweight, but the overall operation of this wine fridge is quite reliable.
Like many wine refrigerators, you are only going to reach the maximum bottle capacity under ideal conditions—using all standard sized Bordeaux shaped bottles. Using bottles with a mix of shapes and sizes will cause you to fall short of the 30 bottle maximum, but you should still have enough space in this unit for a modest collection. The fact that this is a single-zone cooler means you get a little extra space too.
One really helpful feature of this model is a temperature memory function. This means that, in the case of a power outage, the wine fridge can return to the temperature you had it set to rather than a default temperature. With many other wine fridges, people have run into trouble because the fridge defaults to a factory-set temperature after a brief power outage rather than the cooler temperature that the owner had it set to. In some cases it has caused people's wine collections to get ruined. But you won't have that problem with this Kalamera model.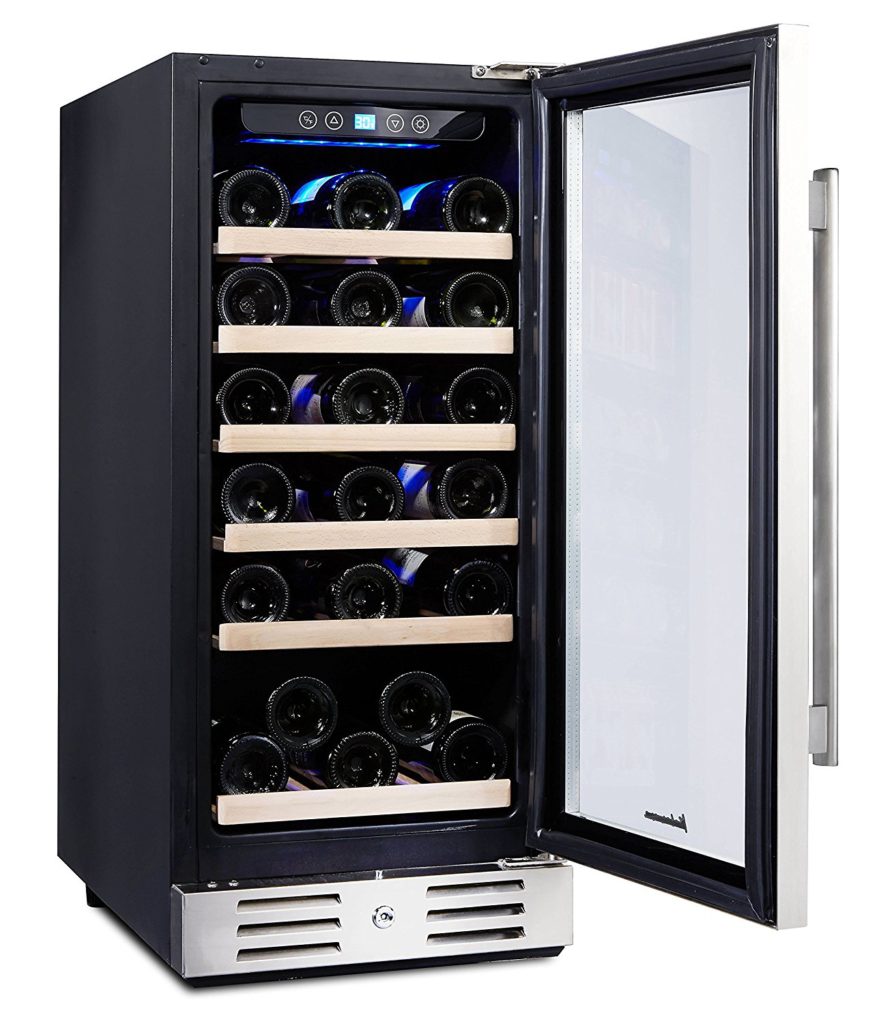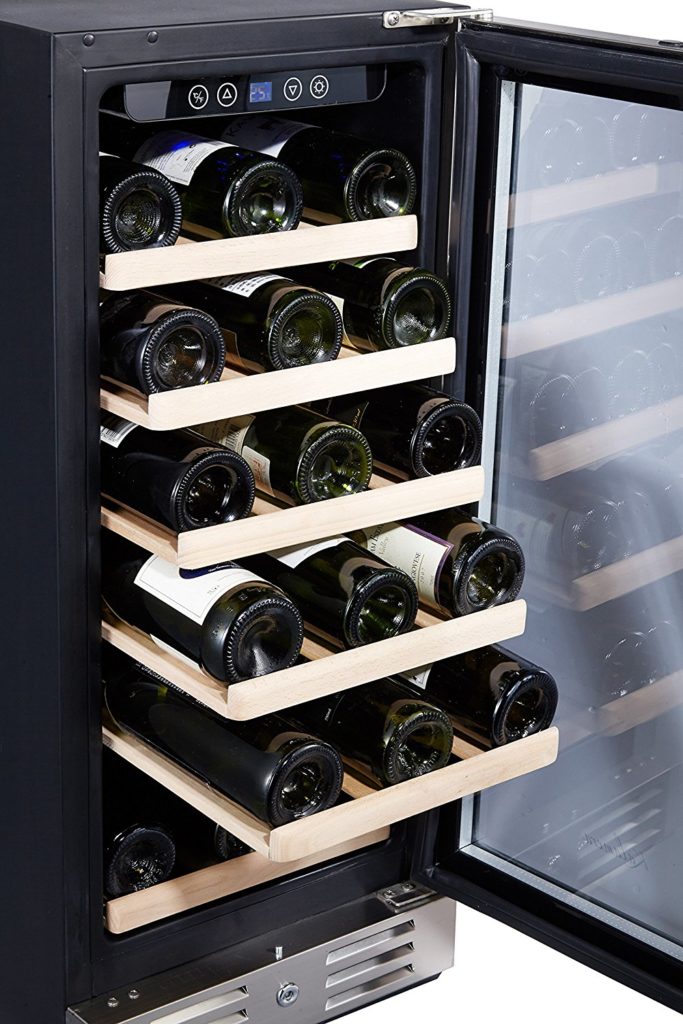 Pros and Cons
Temperature memory protects wine after a power outage
Single-zone cooling
30 bottle max capacity
Reliable cooling
Slide-out wooden shelves slightly flimsy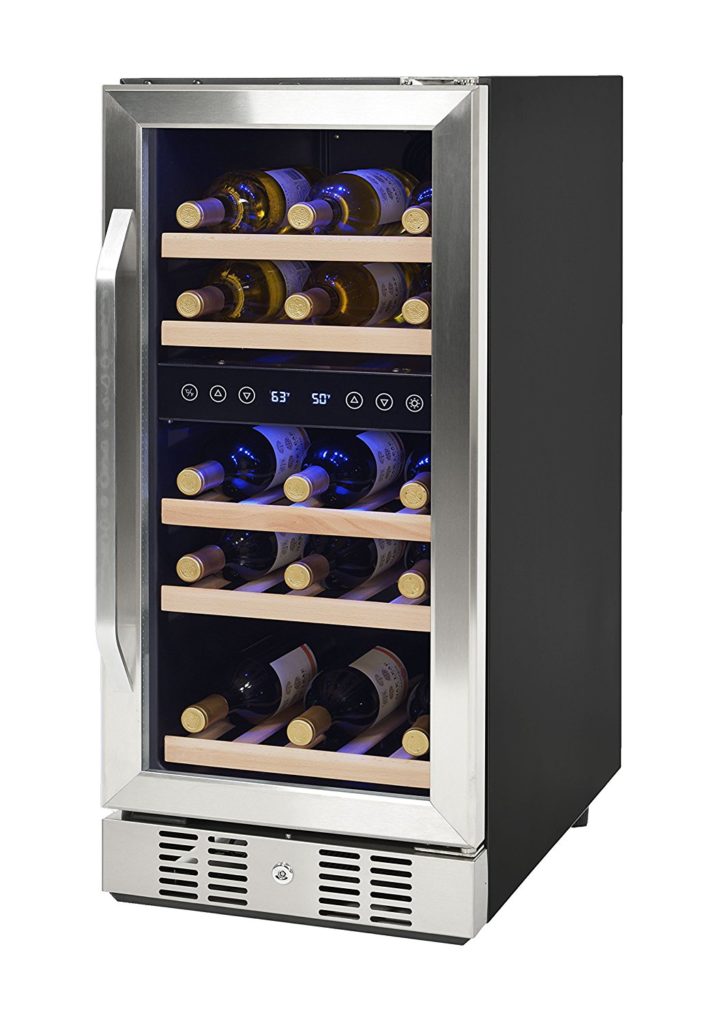 Product Details
The last model that we'll look at is another dual-zone cooler. In this case, NewAir has put the section intended for white wine on the top. The upper section can be set to 40-50 degrees Fahrenheit. It can hold a maximum of 10 bottles with 5 on each of two shelves. The nice thing about the design of this model is that there is extra space above the top shelf, so that it would be able to accommodate wide bottles for Champagne or Chardonnay, etc.
Meanwhile, the lower section can be set to 50-66 degrees Fahrenheit. It is a little larger with regular sized selves and a third shelf on the bottom with enough vertical space to stack up two rows of bottles on top of each other. You could also use this lowest shelf for wide Pinot Noir bottles, etc. At most, you could fit about 19 bottles in the lower zone.
I think this configuration is one of the best in a dual-zone wine fridge as it gives more space for your red wines, which you'd typically want to collect more of.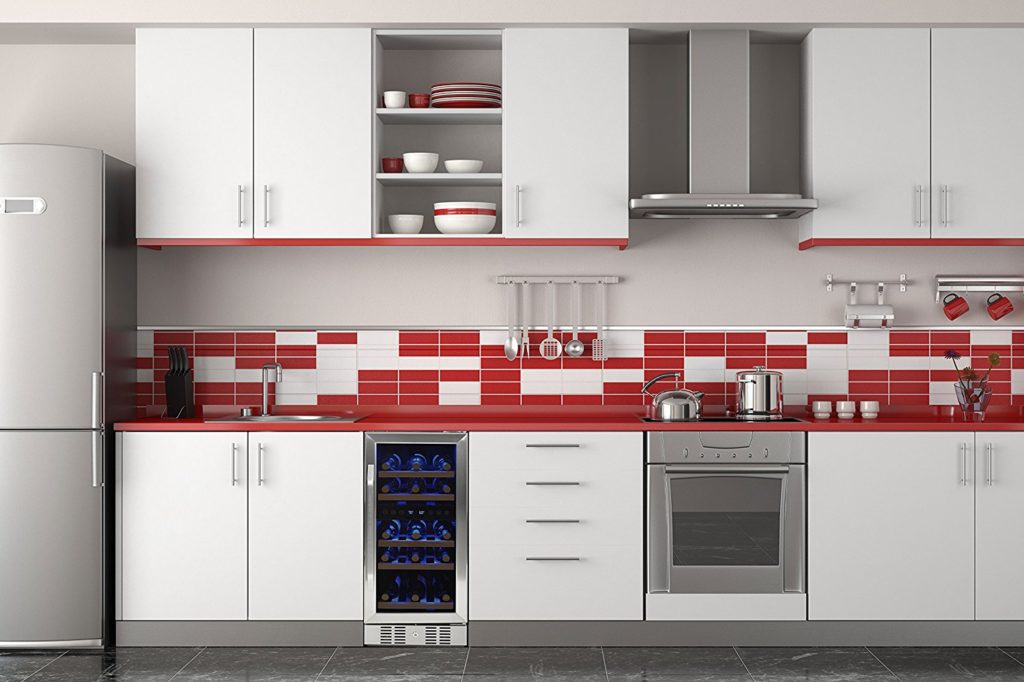 Pros and Cons
Dual-zone cooling
Most logical dual-zone arrangement
Least expensive dual-zone model
Reliable compressor
Runs very quietly

Summary
My overall recommendation depends on whether you want a single-zone or dual-zone cooler. If you're in the market for a single-zone wine fridge, then I recommend buying the Kalamera 15″ Wine Cooler. It's attractive, reliable, and rather affordable at under $600 currently.
If you're looking for a dual-zone cooler, I think the best value is with the NewAir AWR-290DB Wine Cooler. Not only is it the least expensive of the dual-zone coolers, but it also runs quietly and reliably, and the two cooling zones are arranged in the most logical manner.
On the other hand, if you want something a little more fancy looking, the Avallon Dual-Zone Wine Cooler has slick roll-out shelves with stainless steel trimming. If the relatively small red wine zone is not an issue for you, then you just have to determine if the extra cost for the fancier shelves is worth it to you.