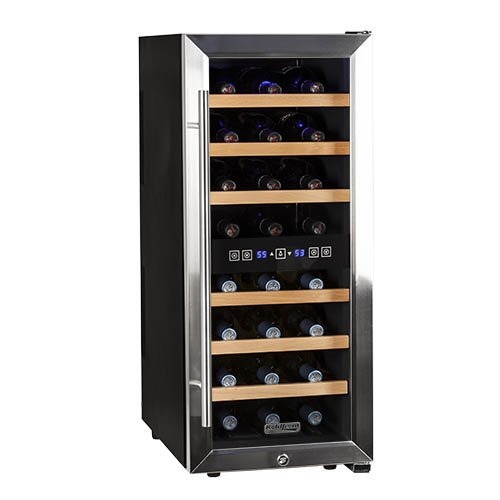 The Koldfront 24-Bottle Freestanding Dual-Zone Wine Cooler is designed to cool your red and white wines simultaneously. That is because it contains two compartments that enable it to cool the wines to their perfect storage or serving temperatures. It can hold 24 bottles, which is a good medium capacity size if you are storing wines for use at your home.
Product Features
Thermoelectric Cooler
The Koldfront 24 Bottle Wine Cooler uses thermoelectric cooling technology. This technology allows the system to run quietly and without any vibrations. It also saves you on energy. That means your electricity bill will not shoot up just because you bought this wine cooler.
No Vibrations
The thermoelectric cooler does not vibrate like a regular refrigerator does. That is a plus for wine storage since vibrations degrade the quality of wine. Vibrations disturb the wine sediments and spoil the taste. With this cooler, you can be confident that will not happen.
Silent Operation
The Koldfront 24 Bottle Free Standing Dual Zone Wine Cooler runs silently due to its thermoelectric cooling system. If you like silence at night, that is a plus. You will also be happy to know that it does not run continuously but only when the temperature rises. That mostly happens when you open its door to take out your wine.
Two Cooling Compartments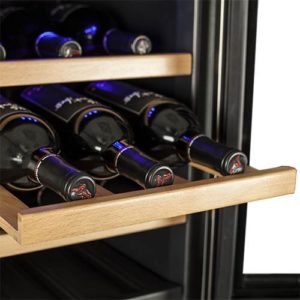 I like that I can store both red and white wines in separate sections. Ideally, they should get cooled to different temperatures. When storing in a regular cooler that has only one compartment, you'll always have to chill your white wines additionally before serving. But this device will allow you to keep your white wines cooler than your reds. The top compartment gets cooled to a temperature range of 54 to 66°F, while the bottom one can be set within a temperature range of 46 to 66°F.
Digital Control
Most regular refrigerators only provide a dial knob for setting the temperature of the internal compartment. This wine cooler provides you with a digital control pad. That means you can set the precise temperature that you want for your wine collection. And each zone can be set individually. The digital control system also includes a microcontroller to monitor and keep the internal temperatures in control. It is the perfect internal temperature control for temperature sensitive items like wine.
Sleek Design
The Koldfront 24 Bottle Dual Zone Wine Cooler aims to amaze in its appearance. It has a metallic handle, black cabinet, with a stainless steel front door, blue interior lighting, and a slim vertical design. It is the kind of appliance you want to decorate your living space.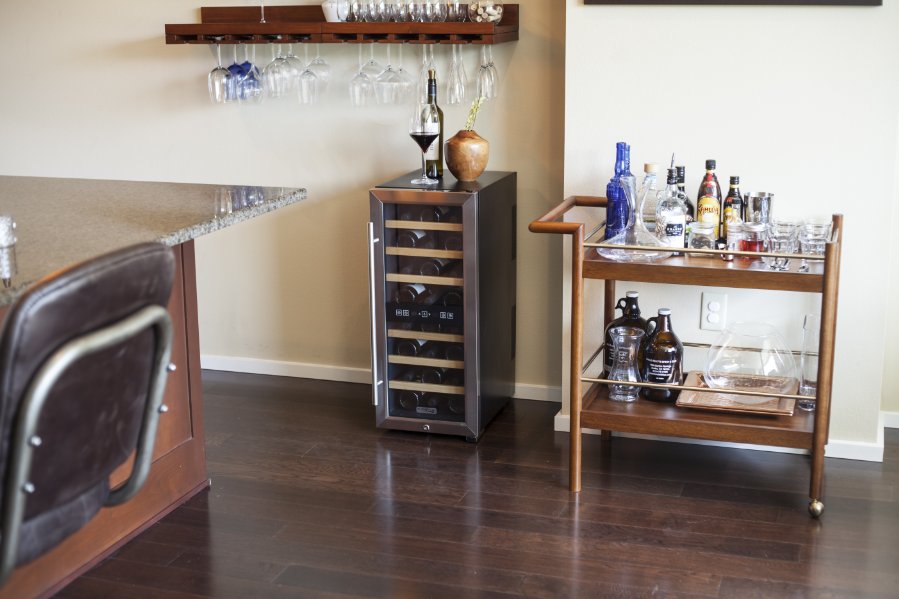 Pros
It has two compartments for cooling red wine and white wine
Digital temperature control
Silent operations
No vibrations
Energy efficient
Cools the different compartments to different temperatures
Cons
The only real negatives are minor points to consider when operating this model.
Do not keep opening the door, as it strains the cooling system.
Hold the tray with both handles when pulling it out. Otherwise, it will drop to the compartment below it.
The door must be opened to 180 degrees in order to pull out the storage trays. This means that you essentially need to place this unit in a spot where there is empty space directly to it's right.
Summary
I like that this wine cooler enables me to store both red and white wines at their perfect temperatures. It's a little pricier than some comparable models, however, the dual-zone cooling in a medium-capacity cooler is something that will appeal to many buyers.

Review Summary
Reviewed by
Date
Item
Koldfront 24-Bottle Freestanding Dual-Zone Wine Cooler
Our Rating