Freestanding wine coolers are super convenient. You don't have to worry about building out special areas for them and can simply plug yours in and let it do its thing. With the number of electric wine cellars available these days, it can be tough figuring out which one will not only work well, but be spacious enough and look decent enough to put on display. And if you fancy both red and white wines, there's also the issue of finding a cooler that will somehow keep both at their respective optimal temperatures.
The Koldfront 18-Bottle Freestanding Dual-Zone Wine Cooler not only holds enough bottles to store most people's wine collections, it works incredibly well and sports an attractive facade. Should you splurge and get one? Here's more information about the model and whether it will fit your needs.
Product Details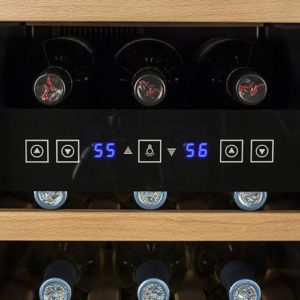 Unlike most wine coolers, this Koldfront model has two temperature zones: the top chills wine from 46 to 66 degrees Fahrenheit, and the bottom of the cooler chills it between 54 and 66 degrees. This feature makes the chiller suitable for storing reds and whites at the same time and getting each to the right temperature. Imagine being able to grab two bottles of red and white wine, opening them, and finding that both could be enjoyed without additional chilling—that's the type of advantage that comes with owning this fridge.
It also has wooden shelving, which is a break from the norm. As opposed to the metal shelves that are inside most wine coolers, the wood does a much better job at protecting bottles from cracking or breaking, and it provides a more stable surface. The motor inside this model is thermoelectric and runs fairly quietly. Plus, the doors of the fridge are tempered and also has a safety lock, which is a good feature for those who have children or pets.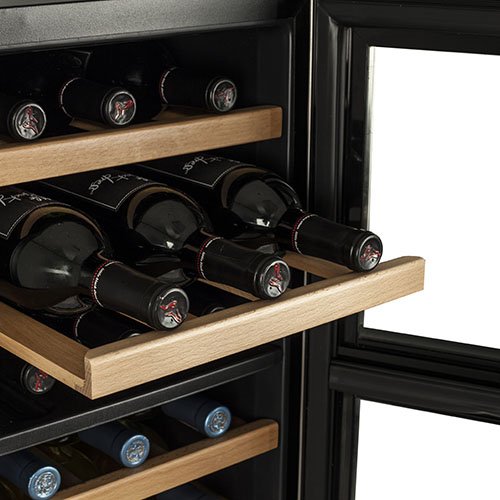 Pros
You'll find that this Koldfront cooler has tons of benefits:
It has two zones so you can keep different types of wine at their proper temperatures.
Though it stores 18 bottles, this cooler isn't imposing and can fit into most average sized kitchen areas.
The wine cooler has wooden shelving, which is not only best for bottles to lay on but looks great.
It's a freestanding model.
This fridge has a safety lock and tempered glass doors.
Cons
There are a few drawbacks to the fridge, but most aren't dealbreakers:
The cooler has a slim design, but it isn't small enough to fit on counter tops or really small spaces.
If you only drink one type of wine, the dual zone temperature feature may be a moot point.
Those with smaller wine collections may feel they're paying for storage space that they don't need.
Summary
This Koldfront wine cooler is awesome if you have a modest number of bottles to store or you have both reds and whites in your collection. The dual zone temperature feature works well, and let's not forget that the cooler itself is attractive.
All in all, this is a great value wine fridge for under $200. Its reasonable price point and wealth of excellent features makes this chiller a smart investment if you often drink wine or keep it around for entertaining.

Review Summary
Reviewed by
Date
Item
Koldfront 18-Bottle Freestanding Dual-Zone Wine Cooler
Our Rating