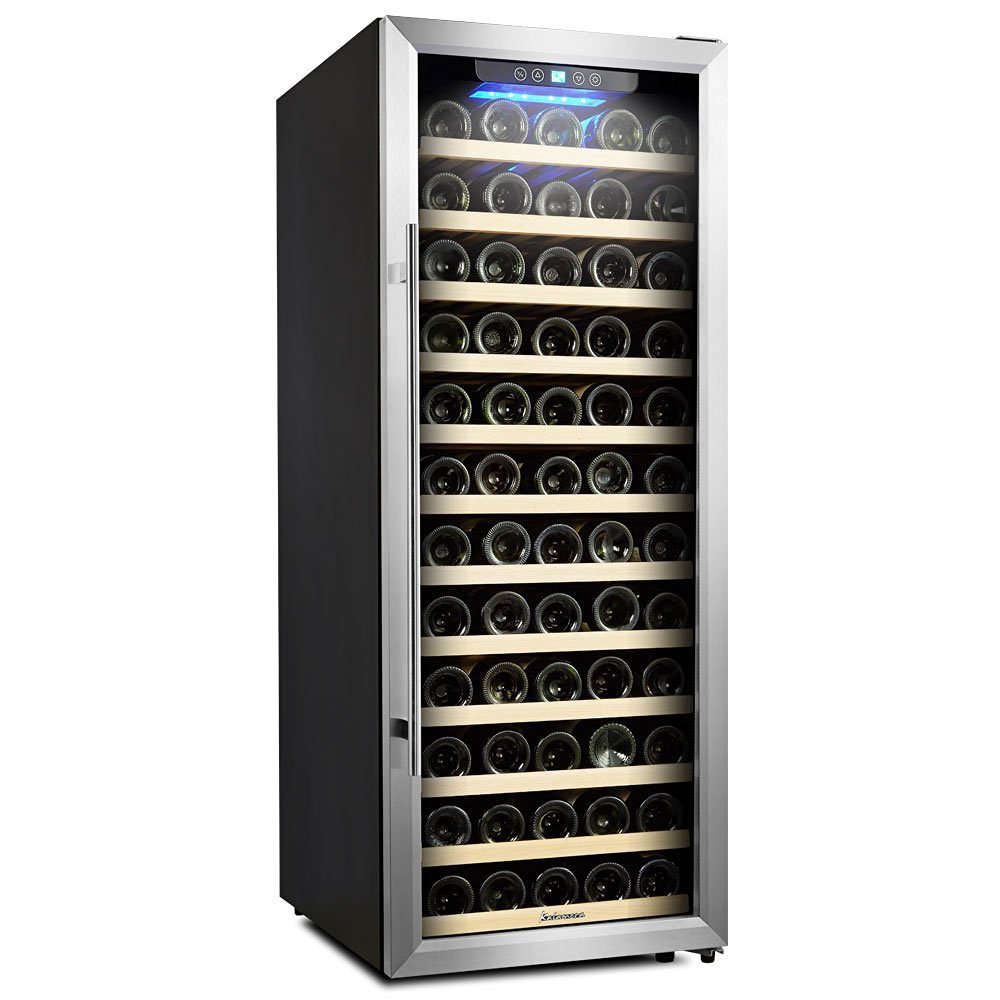 The Kalamera 80 Bottle Freestanding Compressor Wine Cooler uses advanced compressor technology to cool your wine. I like how it can cool my wines to temperatures as low as 40°F. Unlike regular refrigerators, its compressor runs quietly without causing vibrations. It can store up to 80 bottles of wine. That makes this the natural choice if you're looking for a wine cellar cooler to grow a large collection with.
Product Features
Cools All Bottles Evenly
The Kalamera 80 Bottle Freestanding Compressor Wine Cooler has slat-styled shelves that allow air to flow freely throughout this wine cooler. That allows all the wines to chill to the desired temperature irrespective of their location in the cooler. I love wine that is chilled properly. That is why I like the fact that with this wine cooler, I can enjoy wines that are as cold as 40°F.
Digital Temperature Control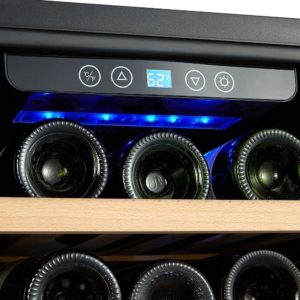 Setting the temperature of this wine cooler is a breeze. It has a digital control panel for you to raise or lower temperature using up/down arrows. The desired temperature is then displayed, and the cooler's advanced compressor will work quietly to achieve that temperature. The digital display and blue interior light give the nice digital look to this 80 bottle wine cooler.
Quiet Compressor
This wine cooler uses an advanced quiet compressor that allows it to run quietly. It does not make that sharp noise that most refrigerators are prone to making. That allows it to stay in your kitchen or living room without drawing any unnecessary attention due to its noise. I prefer storing my pricey wines in the bedroom where I can quickly take inventory whenever I want at the end of the day. A quiet compressor is therefore very convenient for me.
Freestanding Design
The freestanding design of this wine cooler makes it easy to store in any room at home. You do not need to place it on top of the kitchen counter or shelf. Its tall, slim design makes use of vertical space. It is perfect for any situation where you want to take advantage of vertical space to avoid clutter. Whenever I have had to manage my living space, I have come to learn that if you stack some items upwards, you end up with some much needed space left. This wine cooler takes care of that.
80 Bottles Capacity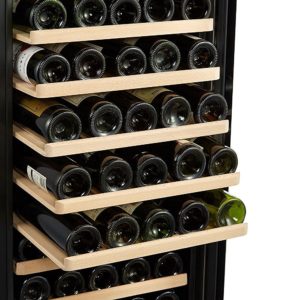 Most wine coolers designed for use at home hold less than 20 bottles. That means you sometimes cannot store enough wine bottles as a collector. This model allows you to grow a large collection over time. The reliable cooling mechanism allows you to store your wine precious vintages at optimal temperature without worrying about them spoiling. And with the even cooling throughout, any one of those bottles will be ready to drink when you're in the mood.
No Vibrations
This wine cooler uses a compressor that runs not just quietly but also without noticeable vibrations. That is important because vibrations disturb the sediments in wine, ruining its taste. The ability to chill wine to 40°F without causing vibrations is not something that is easy to find in a wine cooler.
Pros
Energy efficient, it is designed to use less energy when cooling your wines.
Stores 80 bottles, which is enough for home wine storage.
Runs quietly and it is totally silent at a distant of 10 feet.
Does not vibrate when operating.
Free standing and makes use of vertical space.
Very affordable for its capacity.
Cons
Cools your wines slowly.
It needs some effort to take out the shelves when surrounding shelves are full.
Small feet, the door, might rub the floor if placed on a carpet.
Summary
If you intend to start a wine collection, this is the best wine cooler to have. It will cool your wine and easily hold its temperature within a range of 40°F-66°F. It will not cause any vibrations, meaning it conserves the quality of your wine. Finally, it runs quietly to make sure that it does not cause any disturbance. I would not hesitate to recommend this wine fridge to my best friends if they were interested in seeking a large capacity cooler.

Review Summary
Reviewed by
Date
Item
Kalamera 80-Bottle Freestanding Compressor Wine Cooler
Our Rating