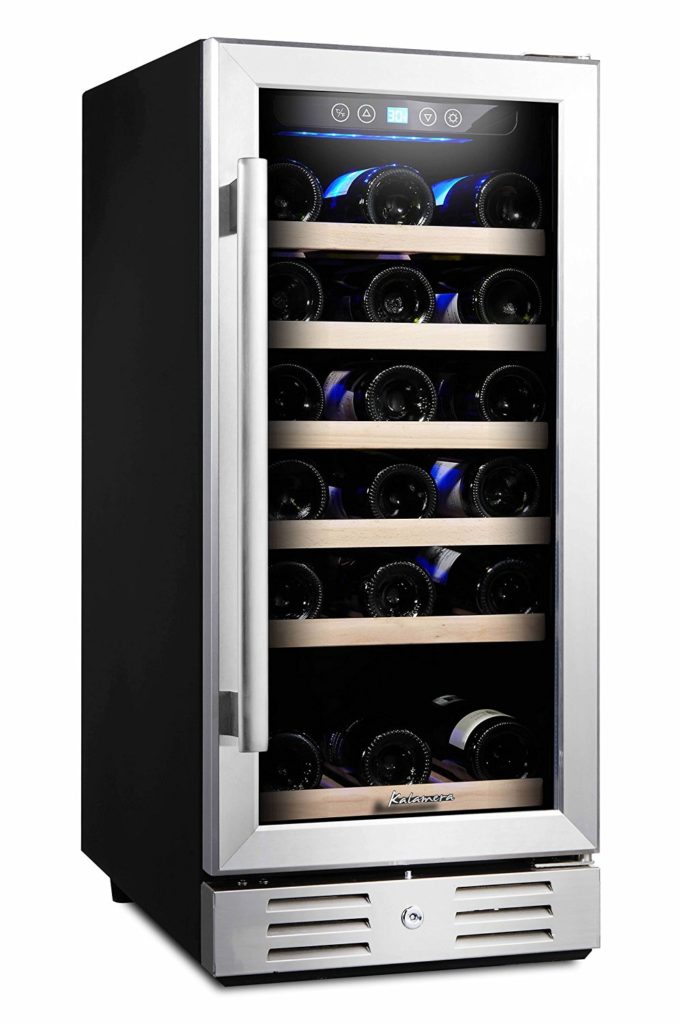 The aroma and flavor of wine is way more enhanced when it's served chilled properly. The trick, however, is in achieving the right temperature. Before I knew any better, I used to put all my wines in an ordinary refrigerator—and the results were always disastrous. Either the wine was too cold or too warm.
I realized I needed more precise control—to find that threshold where the temperature is just perfect, so I decided to buy a wine refrigerator. A wine refrigerator is not like an ordinary refrigerator—it's specifically designed to store wine. Not only does it keep your wine cool but it also ages it to bring out its true characteristic and full flavor potential.
After reading a few reviews online, I decided to purchase the Kalamera 30-Bottle Built-in Wine Refrigerator as my first wine fridge.
Kalamera 30-Bottle Wine Fridge
This is a versatile unit that you can set up in any activity area in your home such as the living room as a freestanding wine cooler. It is also designed so that it can be used under the counter as a built-in refrigerator. It keeps your wine perfectly chilled to your desired temperature thanks to a proficient single-zone system. The product has an elegant look what with the interior being illuminated by a soft blue light and a gleaming stainless steel frame. This wine cooler basically has everything you need to benefit from the best, perfectly chilled wine.
Features
The refrigerator can hold up to 30 bottles of wine on slotted beech wood shelves. It's made of a stainless steel frame and it has two layers of tempered glass. This ensures that the temperature inside doesn't fluctuate and it also prevents fogging.
It's not as noisy as an ordinary refrigerator and the vibration levels are very low thanks to the pre-installed advanced compressor technology.
The LED control display lets you set the temperature very easily so you can always rest easy knowing that your wine is cooling at the perfect temperature at all times.
You can install it anywhere. It does not take up a lot of space so you can store it in the bar or kitchen area.
Pros
First, it's very easy to install and easy to use. Installing the door handle was a breeze. All I had to do was peel back the seal on the interior side of the door to reveal two screw holes.
Also, I like how the compressor is very quiet and cools very fast. I thought the reviews online had exaggerated this feature but it appears that this wine refrigerator is actually very reliable. I still bought the four year extended warranty even though it appears to be a far much more reliable unit than most of the other wine coolers. Many other inferior models seem to fail after one or two years.
Another wonderful feature is that this unit will cool all the way down to 40 degrees F. I personally don't set it that low since I mainly drink red wines. However, if you're a big fan of whites you should be happy to know that this model will chill your vino down much cooler than thermoelectric models typically can.
Cons
It's a little more expensive than some other models with a similar capacity. However, as with all things, you usually get what you pay for. The quality in this unit is really top notch.
One thing I noticed when the unit arrived was that the glass door was cracked. it must have gotten damaged during shipping. That said, the company sent me a replacement door immediately, and the Kalamera representative was very helpful and friendly.
Summary
Overall, this wine cooler is really well made. It's not noisy, it cools wine very fast and the temperature inside remains constant at all times. It's solid and a little hefty at 72 lbs, but doesn't take up much floor space and can practically fit anywhere. I'd say it's rather attractive and provides good value. I would definitely recommend this unit to anyone looking for a mid-sized wine cooler who plans on storing more than 20 bottles.

Review Summary
Reviewed by
Date
Item
Kalamera 30-Bottle Built-in Wine Refrigerator
Our Rating