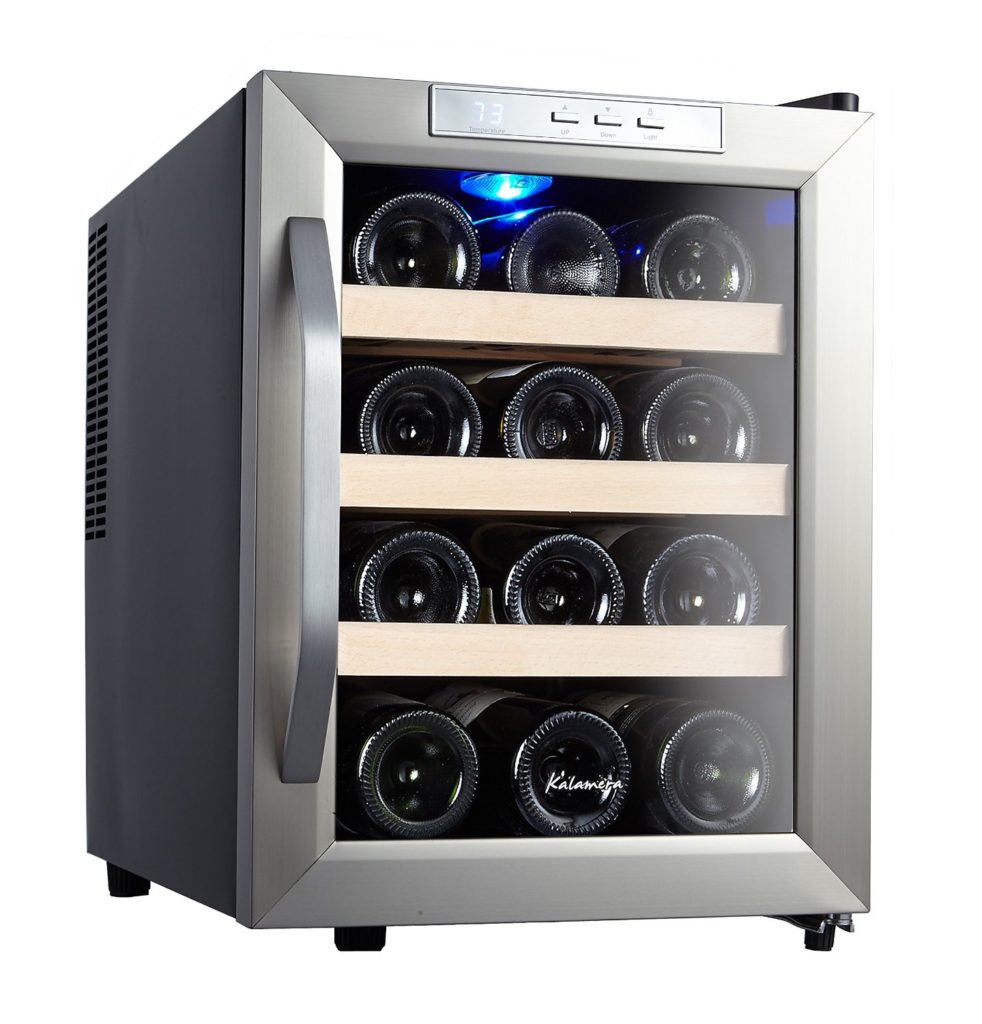 The Kalamera 12-Bottle Thermoelectric Wine Cooler is designed to keep your wines at the perfect temperature. It perfectly fits on the kitchen counter, and I love the fact that does not make any noise like a regular fridge does. I like the fact that it is lightweight and compact, which makes it ideal when you want to conserve space in the kitchen.
Features of the Kalamera 12-Bottle Wine Cooler
Silent Operation
Unlike regular refrigerators, this thermoelectric wine cooler does not have a compressor. It, therefore, runs almost silent. There are just a few small fans to help circulate the cold air inside to cool it evenly.
Low Vibration
Unlike the refrigerators that experience vibrations when the compressor runs, this thermoelectric wine cooler has zero vibrations. The wine stored inside therefore stays undisturbed. The wine's sediments are therefore able to settle down, allowing you to enjoy a crisp fruity taste of your wine.
Upgraded Appearance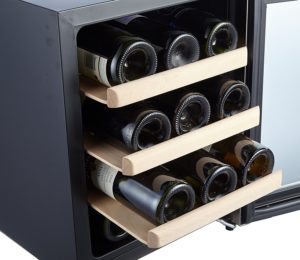 The stainless steel door frame, glass door, and the steel side give this wine cooler an elegant look. The sleek beach wood shelves can be seen through the glass, giving it a combination of classy and modern look. It gives the kitchen an additional decoration with its cool blue LED lights.
Compact Size
The compact size comes from its thermoelectric cooling design. Without the compressor to take much space, its design is compact enough not to be wasteful of space. I love that I can put it on the counter top if I want and not feel that it is taking too much space.
Temperature Controls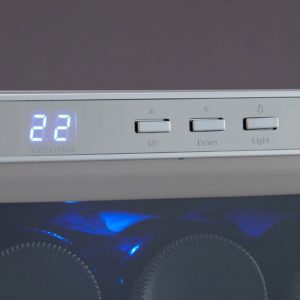 The temperature controls of this thermoelectric wine cooler make it one of the best wine coolers. The controls use microcontroller chips that continuously check the interior temperature of the wine cooler. They make sure it does not fall or rise above what I have set on the temperature control panel. It is that easy to manage its temperature.
Efficient
A fridge's compressor motor takes a lot of power compared to this Wine Cooler's thermoelectric cooling system. That is why it can run with as little wattage as 70W. Keeping in mind that I rarely open it, it ends up using much less power after the initial temperature stabilization.
Environment Friendly
A refrigerator uses Freon in their compressors as a coolant, which is a known pollutant. The Kalamera Thermoelectric Wine Cooler does not have a compressor neither does it use Freon as a coolant. It is, therefore, environment-friendly.
Pros
I find its compact size to be perfect for kitchen storage of wines.
The temperature can drop to 53 degrees Fahrenheit, which makes it perfect for wine storage.
I love that I cannot hear any sound while it is running. It is just the kind of cooler you want around the house if you enjoy silence at night.
Beautiful Design. Not many other small models come with beech wood shelving.
Cons
It might have trouble cooling to below 52 degrees Fahrenheit. So it is fine for red and white wine storage, but you may need extra chilling to bring white wine bottles to ideal serving temperature.
I always find it impossible to pull out the shelves without opening the door at least 90 degrees.
Red wines are what I mostly enjoy, and I do not need to chill them down below about 55 degrees to store and serve. That is why I find this model to be just perfect. Its ability to run silently is a blessing, especially at night.
Perfect for the casual red wine drinker looking for a compact, yet efficient cooler for under $150. I would recommend it to a friend. It would also make an excellent gift.

Review Summary
Reviewed by
Date
Item
Kalamera 12-Bottle Thermoelectric Wine Cooler
Our Rating