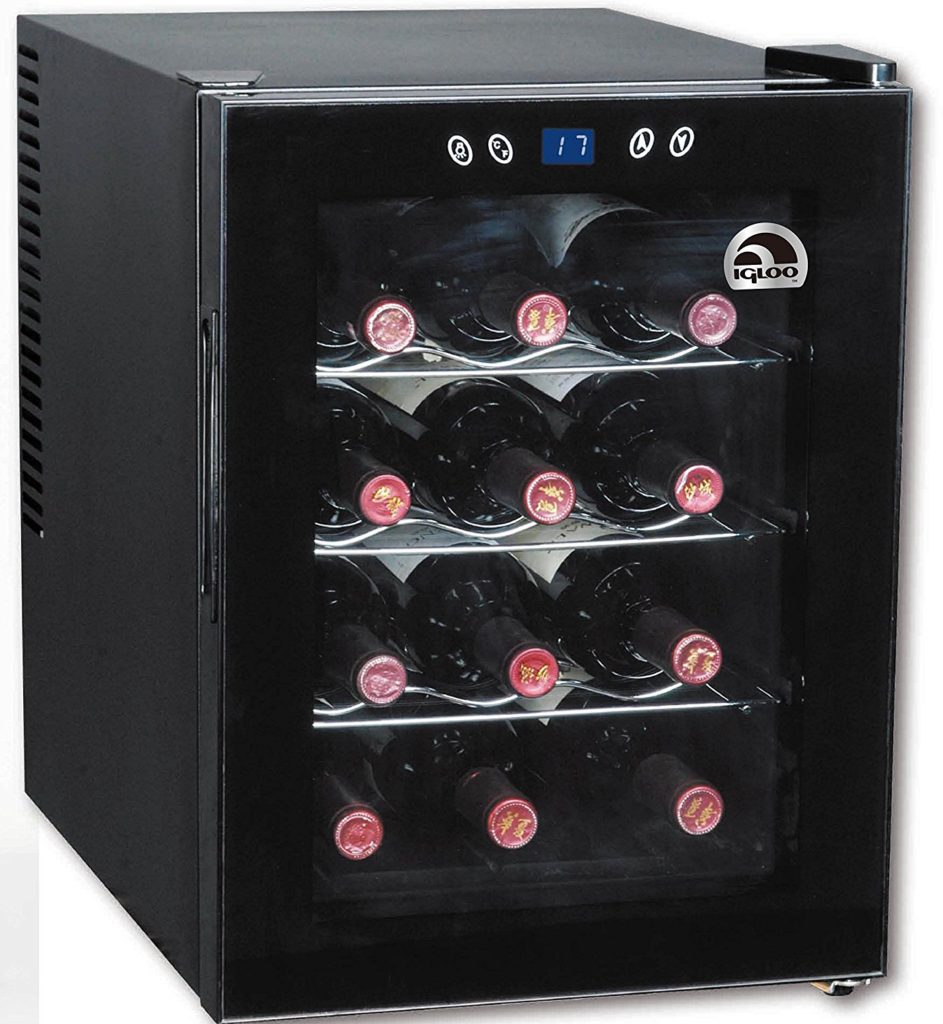 The Igloo FRW133 12-Bottle Wine Cooler is the perfect wine cooler for storage of a modest wine stash at home. I like it that it can hold up to 12 bottles and cool them down to 52 degrees. It does that without making any noise like a regular fridge does. I find its unique compact design blends very well with my other kitchen appliances.
Product Features
Holds a Maximum of 12 Bottles
This wine mini cooler is everything you need at home for storing your wines. It can cool them down to 52 degrees Fahrenheit, which is below the recommended temperature of 55°F for storing wine. So you can safely store your wines for as long as you want. For many casual wine drinkers, this 12 bottle capacity is plenty.
Digital Temperature Control
It uses a micro-controller to keep its internal temperature in check. That is helpful when you are looking for a stabilized temperature to store your wine. All I have to do is set the right temperature on its digital display panel, and then the micro-controller will do the rest. It does not cool the wine instantly. However, it does hold the temperature constant once it reaches the temperature you have set.
Adjustable Interior Space
I found out that you can take out the shelves to increase the interior space of a row if you need to. That is helpful when you have bigger wine bottles to store.
Double Layer Glass Design
The double layered glass design improves its cooling capability. That is because the gap of air between panes of glass slows heats loss by convection. It also offers addition structural strength to this compact wine cooler.
Thermoelectric Cooling System
The Igloo FRW133 12-Bottle Wine Cooler is environment-friendly. It does not use a compressor to cool its interior. It, therefore, does not pollute the environment with Freon, a coolant in compressors.
Silent Operation
Since this mini cooler uses a thermoelectric cooling system instead of a compressor, it can run more quietly as compared to other cooling systems. You can have it in your bedroom, and you will sleep comfortably without being kept awake by noise. The only moving parts are small fans that help to circulate the cooled air in its interior.
No Vibrations
Another advantage of this type of cooling system is a lack of vibrations. That means your wine's sediments stay undisturbed for the entire duration of storage. Therefore, when you finally take out the wine, you can enjoy its crispy taste because it will taste like any professionally stored wine. After that, you will not want to store your wines in your fridge again.
Pros
It's super silent compared to a fridge. You can have it in the kitchen or even in your bedroom.
The compact size of this wine cooler is ideal for conserving spaces in your kitchen.
Its unique design makes it easy to blend it with the rest of the kitchen appliances.
Sufficient capacity for many wine lovers.
Cons
The cooling only goes down to 52 degrees F. So it's not ideal for chilling white wines down to serving temps.
If you want to take out the shelf, you have to open the door by at least 90 degrees.
Open the door with care. It can come off its hinges if you are not careful.
Conclusion
This wine cooler cannot chill your white wines to 50 degrees F or below. If you, however, want to store your wine, it will do a perfect job. It is environmentally friendly and does not make disturbing noises. I also love its unique design that blends with other kitchen appliances. It is a great small-capacity wine storage device to have at home. I find it to be the kind of wine cooler I would give someone as a gift.

Review Summary
Reviewed by
Date
Item
Igloo FRW133 12-Bottle Wine Cooler
Our Rating