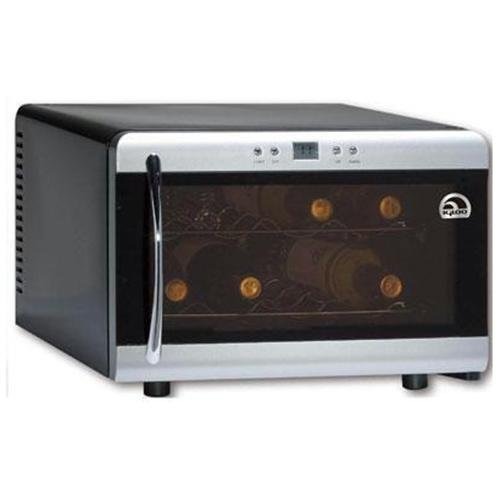 The Igloo 8-Bottle Wine Cooler is a wine cooling system with adjustable temperature designed to keep your wines—white or red—at your desired temperature. The 8-Bottle Wine Cooler is relatively compact (22″ deep, 16″ wide), while adding a level of class and sophistication to your kitchen or dining room. Any dinner guests or friends you have over will be impressed with your care and your treatment of wine. This is also one of the most affordable models on the market.
The 8-Bottle Wine Cooler is able to hold a total of—you guessed it—eight bottles of your favorite wines. And the wire shelves are also able to slide right out.
This wine cooler has a one-button temperature regulator, so there is absolutely no learning curve to using this wine cooler. And the white interior light gives you an almost intrusive view into your wine bottles' contents, allowing you to judge for yourself the quality of the wines you have in stock almost instantly.
But for a more in-depth analysis of this product, let's look at the pros and cons of this model.
Pros
The design of the 8-Bottle Wine Cooler is simple, compact, and generally will be an unobtrusive addition to your kitchen and/or dining setup.
I like how quiet it is for keeping wine cool.
You will definitely save on the amount of electricity used over the bigger wine cooling systems.
8-Bottle Wine Cooler is portable for the most part. It is compact and can be store in a variety of places. This is NOT JUST for kitchen use. You can store it in the bedroom closet or even use it for the camper. All you really need is an outlet.
Cons
You are obviously limited to 8 bottles. For many people this is plenty, but if you're a wine collector, then you'll want to move on to a larger model.
I heard that the product may eventually overheat, and become loud over a period of a year and a half or so. But it really depends on how well you take care of it.
Overall, the Igloo 8-Bottle Wine Cooler is not a bad model when you consider its low price. Some buyers, however, might like to spend just a little more to get comparably sized unit with added features such as wooden shelves or different styling.

Review Summary
Reviewed by
Date
Item
Igloo 8-Bottle Wine Cooler
Our Rating