In today's review, we're gong to look at the highly-popular Igloo 6-Bottle Wine Cooler. This is a nifty little countertop model that looks slick, gets tons of positive reviews, and has the backing of a well-known appliance brand.
If you happen to be reading this and it's still before the holidays, you also might want to consider this small wine cellar as a potential gift for those on your Christmas shopping list.
Product Details
Igloo makes wine refrigerators in a number of sizes, but this particular model is built for 6 bottles and sized to fit on your countertop. The arrangement is 3 vertical rows of 2 bottles each, which is a logical design that minimizes the appliance's footprint.
It features a double-layer glass door, black exterior, interior LED light, and wire shelving. The cooling is accomplished with a thermoelectric cooling unit, which is most typical for wine coolers in this size range. The temperature can be adjusted to a range of about 46 to 64 degrees F.
Pros and Cons
Igloo's 6-Bottle cooler has a sleek, modern black design and looks great in any kitchen. The size is perfect for someone who just wants to keep a few bottles of wine cooled to a good storage and serving temperature. The target customer is probably someone who enjoys wine but isn't a hardcore collector or connoisseur. It's also ideal for a grad student or young professional living in a smallish apartment without lots of room to spare for a bulky wine fridge.
The price of under $70 (at the time of writing) also makes this the perfect first wine cooler or gift item for a wine-loving friend.
It cools well, but you have to remember how thermoelectric coolers function in order to get the best performance. As a general rule, solid-state thermoelectric wine coolers can only achieve a difference in interior-to-exterior temperature of about 25 degrees F. So if it's 85 degrees in your kitchen, you'll have a hard time getting the cooler to chill down any lower than 60.
Furthermore, thermoelectric coolers need some space to function properly. They work by transferring heat to the outside air, and in order for the outside air to not remain too warm you've got to keep the back side of the cooler spaced away from a wall. One foot of space will provide for enough air circulation to do the trick.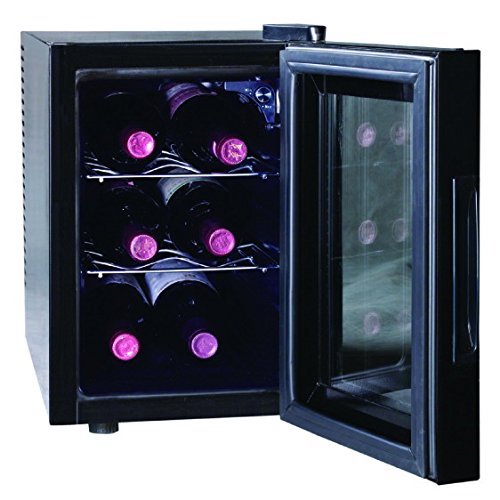 Buying Recommendation
I'd recommend getting this model if you are a casual wine drinker who just needs to keep several bottles at a good temperature. If should hold enough wine to last you between trips to the supermarket. This is also a great product to give as a gift for a novice wine lover. The slick design will look great in most anybody's home, and they'll love the experience of popping open a bottle of properly cooled red wine vs one that has been sitting around at full room temperature.
If you are really serious about establishing a wine collection, then of course you'll want to purchase a larger model for your home, perhaps a 28-30 bottle capacity wine cooler.

Review Summary
Reviewed by
Date
Item
Igloo 6-Bottle Wine Cooler
Our Rating