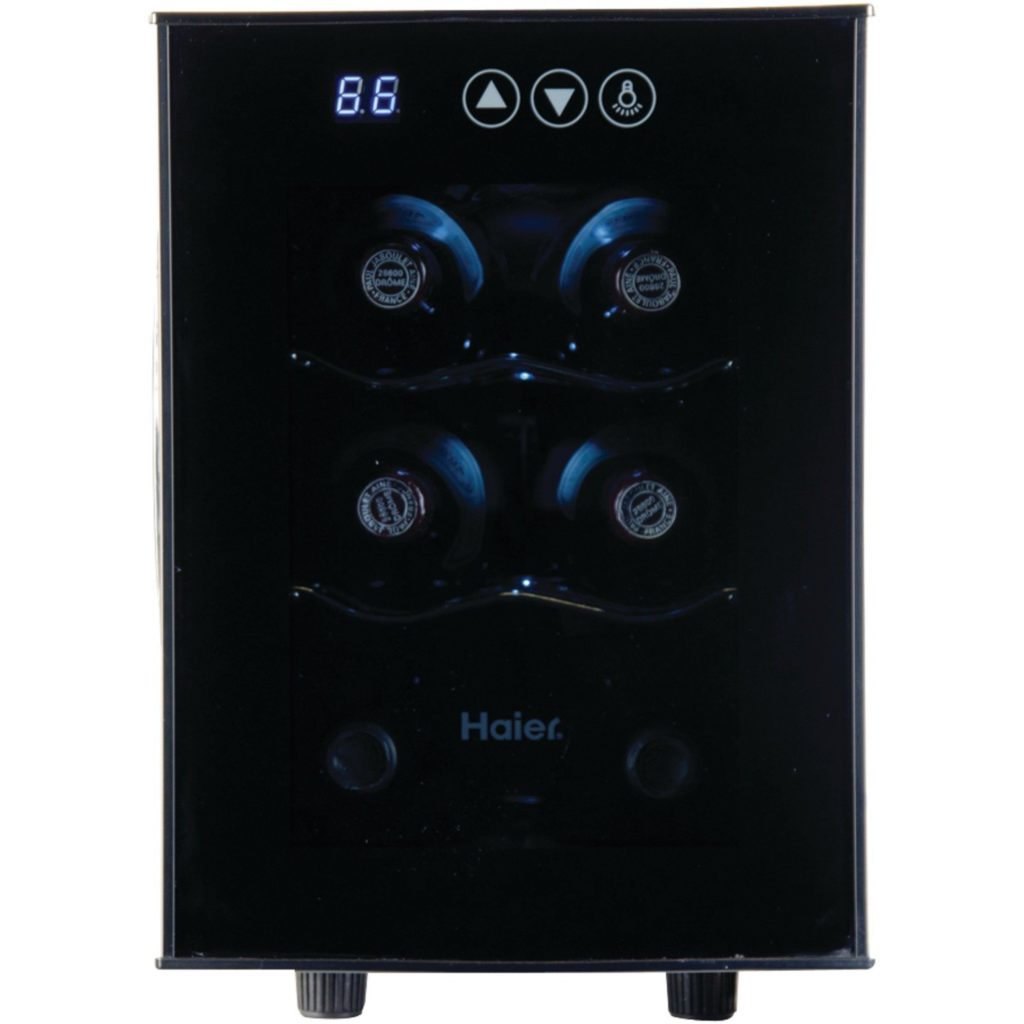 Wine coolers can be handy to have, whether you want to keep your bottles at an optimal temperature or you're simply looking to prolong the life of extra wine in your stash. A potential problem, however, is that the vast majority of wine coolers are large and don't fit easily into modestly sized kitchens.
For those who would like a counter top storage option, the number of suitable models available is small. The Haier 6-Bottle Wine Cellar is the ideal solution for those who want a wine chiller but have limited space. It also includes many handy features and electronic controls.
Details
Once this cooler is delivered, you'll notice how light it is compared to other models that hold the same amount of wine. Don't be fooled by its size, though, as the Haier 6-Bottle Wine Cellar is a well rounded machine. The temperature inside of the chiller is controlled by a blue LCD display, and inside is a thermoelectric cooling system that's pleasantly quiet. If you've ever heard the loud hum of larger coolers, you'll be able to appreciate how quietly this one runs.
Because this model is so compact, you can put it almost anywhere—on the counter, under the counter, by your pantry, on a pantry shelf—the options are just about endless. It's even possible to take it with you in an RV because its dimensions are small: 9.9 inches wide, 20.3 inches in depth, and 14.1 inches high.
The fridge has three shelves that each hold two bottles of wine, and it's suitable whether you need to store red or white varieties. Aside from its great function and practicality, this model is notable because of its aesthetics. It has a very sleek, modern, and stylish look and is well worth considering if appearance is important to you. To put it plainly, you'll have no problems putting this machine on display, and you'll probably even get compliments on it.
Pros
Though this wine cellar is relatively small, it packs a lot of benefits:
It can easily fit on most counter tops, or even under the counter.
The interior lighting is soft and not harsh.
The door's design is curved, which looks nice and is practical.
You can very easily adjust the thermostat on this chiller with the touch of a button.
Red and white wines are suitable for this Haier model.
Cons
There are few drawbacks to this wine fridge, but here are some things to consider:
You can only hold six bottles of wine in this model, so it's not ideal if you want to start a sizable collection.
The design is modern and largely comprised of black. And while it looks attractive, this chiller definitely won't fit into every kitchen decor style.
The temperature display isn't precisely accurate, although it's not usually far off the mark.
Summary
Though this wine cooler won't meet everyone's needs, for those who have a smaller collection of vintages or the causal wine drinker who wants an effective storage solution, the Haier 6-Bottle Wine Cellar is a good pick. It's price makes it even more of a value, and the well built chiller will give you many years of use.

Review Summary
Reviewed by
Date
Item
Haier 6-Bottle Wine Cellar
Our Rating