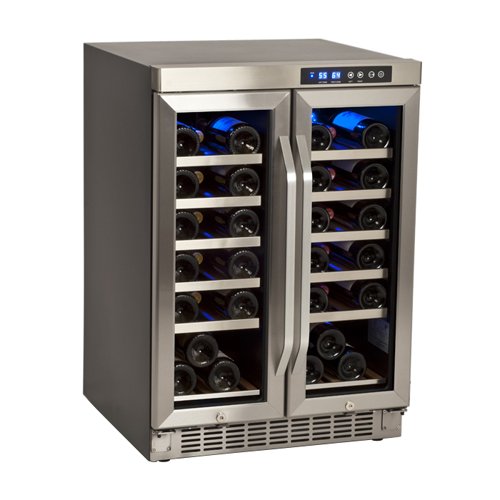 Like many people, I enjoy a nicely chilled bottle of wine occasionally. It is also nice to have a variety to choose from because I don't always like to drink the same thing. It can depend on the time of year, the type of food I am consuming the wine with, or even what my guests prefer. If you want to have ready access to a large variety of red and white wines, you should consider getting a dual-zone wine cooler. I decided to give the EdgeStar 36 Bottle Built-In Dual Zone French Door Wine Cooler a try to see if it lives up to my needs and expectations.

Features
I gave the cooler a through inspection upon buying it. The first thing I noticed was the modern design. The stainless steel and glass construction has the ability to blend into just about any decor. This EdgeStar wine cooler has a 36 bottle capacity which is plenty of room for storing a wide variety of both reds and whites.
It has french style doors and two different zones for greater temperature control. If for instance, you wanted to chill red and white wine at two different temperatures then you could do it with no problems.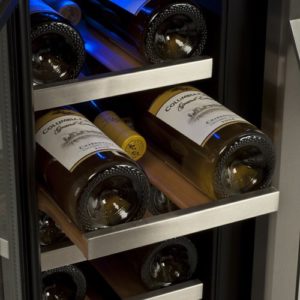 The glass that forms the front doors is a tempered glass that has a black dot pattern. The cabinet part of the cooler is black with the stainless steel featured on the front. There are locks on each of the doors and matching stainless door handles. The dimensions for the cooler are 34 1/8″ H x 23 1/2″ W x 22 5/8″ D.
Inside of the cooler, there are wooden shelves that feature stainless trim. There is a total of ten slide out shelves for the unit.
Pros
This is a very stylish and sleek wine cooler. I love the way it brings a touch of sophistication to the area that you will be using it in.
It has a compressor but it runs quietly and smoothly.
It also gives you the option of using it as a built-in unit or a freestanding unit.
There's also a double digital thermometer on the front so that you can see the exact temperature on each side.
The blue interior light gives the unit ambiance.
It also does a good job of keeping the temperature stable on both sides once it is filled.
Cons
The few drawbacks to this unit are quite minor.
If you want a completely quiet unit then I would suggest looking elsewhere. Even though it is quiet compared to other coolers with a compressor, it still makes some noise.
The light looks great inside but it does little to give you visibility when looking at the labels on the wine bottles.
Overall
If you are looking for a versatile and stylish wine cooler with plenty of features the this is the wine cooler for you. You will, however, have to be willing to look beyond the dim lighting and the slight noise that the compressor makes but if that is something that you can live with, you will be delighted with this purchase. It's especially good for those who want a built-in model to go under the counter with dual-zone chilling for a collection of reds and whites.

Review Summary
Reviewed by
Date
Item
EdgeStar 36 Bottle Built-In Dual Zone French Door Wine Cooler
Our Rating