Are you looking for the best wine refrigerator under $500? Many people can see the value in purchasing a wine fridge to keep their vino cooled to the right temperature, but at the same time find their budget limited to around $500. If this sounds like you, then you should take a good look at the Kalamera 12-Inch 18-Bottle Wine Cooler which can be used either built-in under a counter or freestanding. in my opinion, this is the best wine fridge you'll find for less than five Ben Franklin's.
Just have a look at this compact, gorgeous, and highly-functional thing of beauty…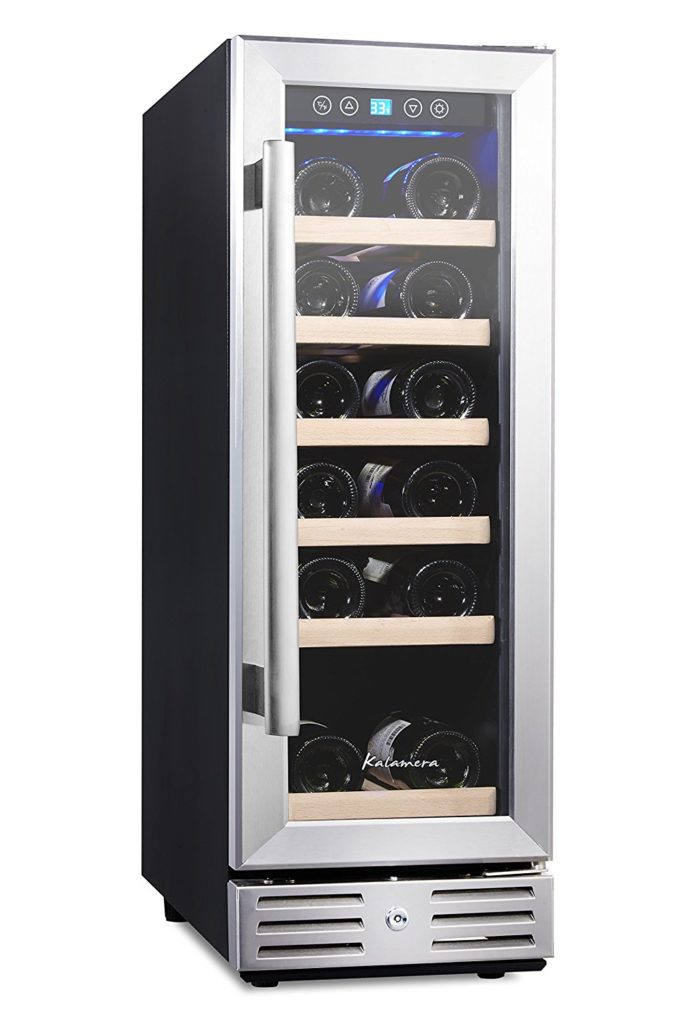 As you can see, this is a very slick, modern-looking model that will complement just about any kitchen decor. Now let's get a rundown of the Kalamera's features and functionality.
Fits in 12-inch wide space. Exact dimension are 11.6″ wide x 33.9″ high x 22.4″ deep (without handle). The handle is designed to protrude another 2 inches from the front surface of your cabinets.
Built-in or Freestanding. It was designed with a built-in under-the-counter use in mind. But you could just as easily set it up somewhere in your home as a freestanding unit.
Compressor cooling. This model makes use of a compressor cooling system that can reliably cool down to 40°F regardless of ambient room temperature.
Easy to use single-zone touch controls. This single-zone cooler model chills the interior to an even temperature, which can be precisely controlled using the digital touch controls. A temperature range of 40-66°F is possible.
Attractive styling. The Kalamera has a stainless steel door, a double-layered tempered glass window, and beech wood sliding racks.
Temperature memory function. When you have a brief power outage, the cooler remembers the temperature it was set to, saving your wine from going to a default temp that may not be ideal.
18-bottles capacity. This model holds up to 18 standard-sized Bordeaux 750ml wine bottles. There are six beech wood shelves, each holding three bottles.
Accommodates some larger bottles. Without removing any of the shelves to accommodate wider shaped wine bottles, there is some extra space above the lowest shelf to fit a few of these larger sized bottles in.
Security lock. So the kiddos won't raid your wine collection.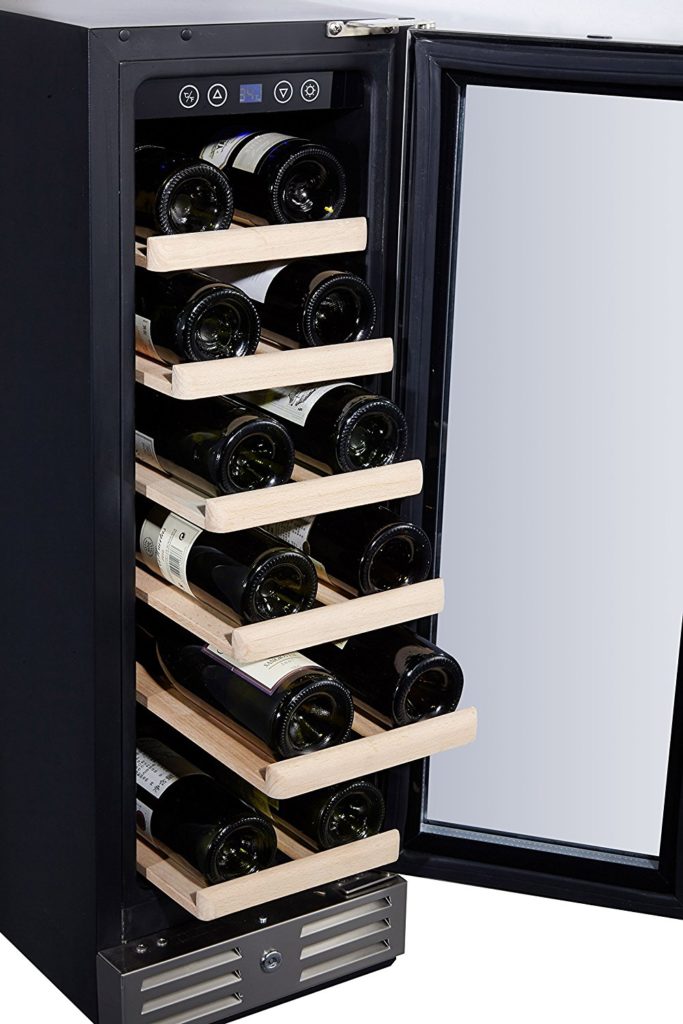 Who is the Kalamera 18-Bottle Wine Cooler for?
The Kalamera 18-Bottle Wine Cooler is a great choice for a regular wine drinker or casual wine collector. If you frequently drink wine you'll want to be able to store a modest amount at home. This way you can have your choice of wines to go with whatever meal you happen to be in the mood for.
If you don't have a lot a space in your kitchen to dedicate to a wine fridge, this model should do nicely. At just 12 inches in width, it can fit into all sorts of places, including a small slot under the counter.
If you live somewhere with a warm climate, then a compressor type of cooler might make more sense than a thermoelectric one. You can probably find a cheaper thermoelectric cooler with a similar capacity as this one, but the cooling power of such a model may be limited by the ambient temperature of your home. Compressor coolers aren't at the mercy of external temps in the same way, and they can easily maintain cooling down to 40°F.
Who is the Kalamera 18-Bottle Wine Cooler NOT for?
If you're a very serious wine collector, then a capacity of 18 bottles might be a serious limitation. Maybe Kalamera's 30-Bottle Wine Cooler would be of more interest to you.
Likewise, if you're shopping for a wine fridge to furnish a busy restaurant, then you'll want something much bigger.
Those who really strongly desire a dual-zone wine cooler would be another group that will not be totally satisfied with owning this single-zone model. It is great for keeping all your bottles at one standard temperature for storage or ideal drinking temperature for your favorite type. But it won't be the model to get if you want to keep reds and whites at two different temps, for example.
Should you buy it?
If you've made up your mind to get a smaller sized wine fridge, you should definitely consider this one. It quickly and quietly cools down to the set temperature. It looks beautiful in your kitchen. It won't take up much space, especially with only 12 inches of horizontal space. The temperature memory function can save your precious wine collection if the power goes out temporarily during a thunderstorm or some similar event while you are away.
18 bottles will last you two whole months of drinking a couple of botles of wine per week. If you keep wine for the purpose of actually drinking it—and not just collecting it for some rainy day that never comes—then you'll find this capacity to be more than sufficient. The bit of extra space on the lowest shelf to hold wider bottles such as Pinot Noir is a nice bonus feature of this model. All-in-all, I'd say it's a great value and a sound investment for anyone who really enjoys wine drinking.
And this Wine Cooler sells for less than $500

Review Summary
Reviewed by
Date
Item
Kalamera 12'' 18-Bottle Wine Refrigerator
Our Rating