Many people in the market to buy a new wine cooler already have a specific spot in the kitchen in mind where they want to put it. They are often looking for a wine cooler with an exact size to match the space available in their home. Often they're interested in finding a mini wine fridge that will fit in a space no more than 18 inches wide. Several companies have models meeting this specification, so let's compare a few of the best wine coolers of 18 inches wide size in this review.
The three models we'll look at today are the Danby DWC032A2BDB 36 Bottle Wine Cooler, the Whynter WC28S SNO 28 Bottle Wine Cooler, and the Kalamera KR-28AJP 28 Bottle Wine Cooler.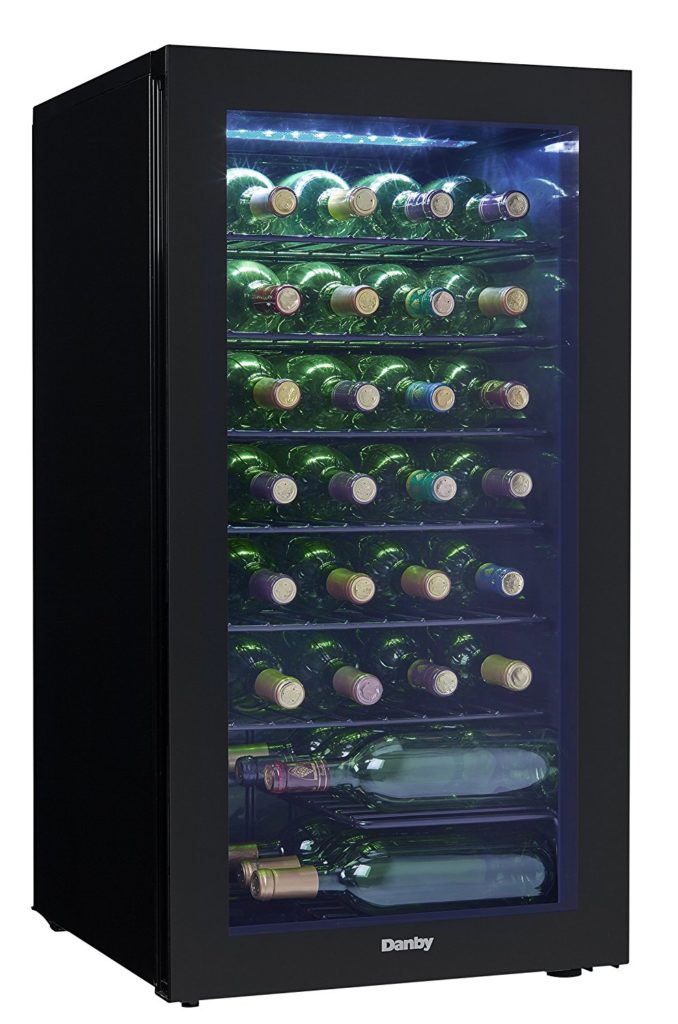 The Danby DWC032A2BDB model has the largest capacity of the three wine coolers that we're going to compare. It has 8 shelves stacked up vertically, with each one able to hold 4 standard-sized Bordeaux wine bottles. Obviously this also makes it slightly taller than the other two models, so if your vertical space is restricted, this might not be the one to consider.
As could be expected with the slightly larger size, this wine cooler is also the most expensive of the three. (Check the current selling price on Amazon)
As for looks, this one comes in a choice of black or stainless steel. I'm a bit partial to the black color version. I think it looks a little more slick. It's lit inside by a cool blue LED light and has a darkened glass door. The door has handles on both the left and right sides, which allows you to fix the hinge to the side of your choice. This is kind of a handy feature when you consider that fitting the wine cooler into a tight area might require either a door that swings either to the left or the right.
This Danby wine fridge is a compressor cooling unit. This means it will be able to cool down as low as 43°F (6°C) with no trouble. The highest temperature it will allow while running is going to be around 55°F (13°C). As a compressor model, it's also going to be able to hold a steady temperature, without fluctuations. On the downside, the temperature control is a simple dial. So it will require a little extra work on your part to find the exact dial setting needed for the temperature you desire. This will also require you to use your own thermometer. On the bright side, once you find the temp you want, this little wine fridge will hold it reliably.
It should be noted, though, that there can be a difference of about 5 degrees F from the top shelf to the bottom shelf, with the bottom getting cooler than the top. Therefore, if you're storing both red and white wines, you might want to keep the whites on the lowest shelves.
Another potential issue with this wine fridge is that the highest temperature setting may be too cool for some wine collectors. Although it can be a good temperature for wine storage and aging, it's going to be slightly cooler than an ideal red wine serving temperature. So if you decide to buy this unit, keep in mind that you might want to remove a bottle of red wine 20 minutes or so before you plan on serving it depending on the variety.
Pros
Powerful compressor cooling ability
36 bottle storage
Looks good
Good value for this size and performance
Consistent temperature once set
Cons
Basic temperature dial
Top shelf to bottom shelf temperature difference
Highest temperature might be too cool for some

Next, let's look at the Whynter WC28S SNO Wine Cooler with 28 bottle capacity. This one is a solid-state thermoelectric cooling model. It has precise digital temperature control shown with an LCD display. The available temperature range is going to be warmer than the Danby compressor fridge model. In this case, 52°F to 65°F will be possible. This makes it a good wine cooler for anyone who wants to keep bottles of red wine at drinking temperature.
This Whynter wine cooler features a platinum finish and towel-bar door handle, although it's actually a platinum colored plastic. Depending on your personal taste, you may prefer the appearance of this model over a black one.
As a freestanding thermoelectric cooler, some clearance will be required. In particular, you'd want to make sure it has several inches of empty space in back in order for the cooling to work effectively. You might have to actually keep it a full foot from the wall to get the best results. The depth without the handle is 20.5 inches, however, the interior depth may not be adequate for tall bottles such as Riesling.
Thermoelectric coolers are always going to be limited in their cooling ability due to the ambient temperature of the room. They're usually limited to cooling no more than 25 degrees F below room temp. So if you live in a hot climate or don't have air conditioning in your home, keep this in mind.
Pros
Digital temperature setting
52°F – 65°F range
Affordable price
Door lock with 2 keys
Cons
Limited low range of thermoelectric cooling
Plastic door handle can look cheap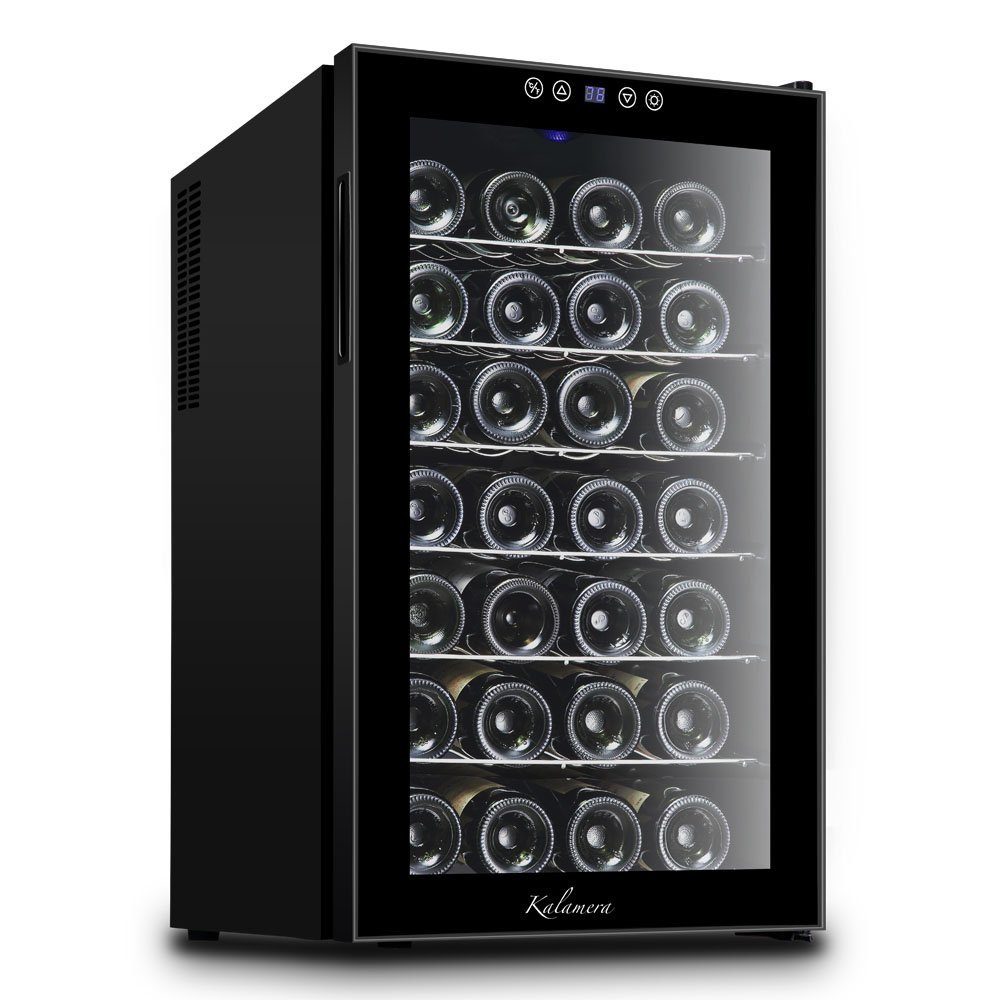 The Kalamera KR-28AJP 28 Bottle Wine Cooler is another thermoelectric model. The digital temperature control can be set to a range of 54°F to 66°F. As with all thermo-coolers, your environment may limit the actual lowest temp that is achievable.
As for appearances, this model has a simple black exterior. It should look good in anyone's home.
Although it has identical capacity and similar features to the Whynter model, this Kalamera cooler is the less-expensive of the two. (Check the current selling price on Amazon)
Pros
Good value
Simple, clean styling
Digital temperature control
Cons
Limited low range of thermoelectric cooling

Buying Recommendation
My recommendation for the best 18-inch wide wine cooler to buy is going to depend on your needs and intended use. If you want strong cooling power that is pretty much guaranteed to never fluctuate, then by all means go with the Danby compressor model. However, if your goal is to simply keep red wine stored at a good temperature, ready for drinking at a moment's notice, and if you'll be keeping the unit in an area without wide temperature swings (such as an air-conditioned apartment), then I'd recommend a thermoelectric model. Of these two, I like the Kalamera cooler the best. Not only does it look more sharp (in my opinion), but it is also the better value.