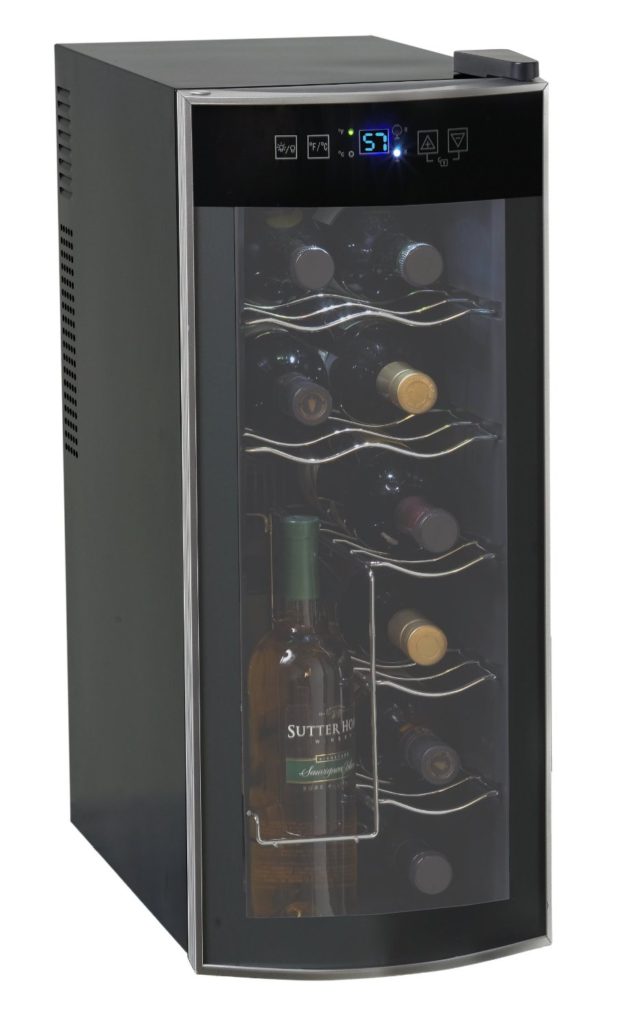 The Avanti EWC1201 12 Bottle Wine Cooler is a unique wine storage appliance designed for use at home. It runs quietly and efficiently. Its interior allows you to store wines both in a horizontal and vertical position to accommodate four open bottles. It is environment-friendly, and I love the fact that it uses a digital controller to regulate its internal temperature.
Product Features
No Vibrations
The Avanti 12 Bottle Wine Cooler operates without any vibration because it does not use a compressor. There are no moving parts inside except for small fans that circulate the cooled air. It uses a thermoelectric design to cool its interior. It is the kind of cooler that is pleasant to use at your home because of its silent operation. I find the quality of the wine after being stored inside it to be similar to what you get from use of an actual wine cellar.
Classic Cabinet Design
Its classic design looks great on the kitchen counter or in the bedroom. It has just enough decoration to make it blend with other electronic appliances. Its digital display panel gives it a look of a modern kitchen appliance designed to perfection.
Compact Design
The compact design which takes more vertical space than horizontal space means that you do not waste much of your kitchen counter space. If you have an open kitchen, you will love showing off this unique wine cooler.
Silent Operation
I like the fact this wine cooler does not make any noise when working to cool your wine. I enjoy the fact I can have it in my bedroom and forget it is even there. If you like to meditate or do other activities that require a silent environment, then you will love this wine cooler. It cools your wine and stays silent at the same time.
Power Efficiency
Without the use of a compressor, they were able to not only avoid vibration and noise—they lowered its power consumption as well. You can rest assured your energy bill will not shoot up because you bought this great wine cooler.
Environmentally Friendly
No compressor means this wine cooler has no Freon in it as well. I find that to be a great relief when buying it. It just feels good knowing that you are not polluting the environment at the same time that you indulge yourself.
Pros
It is efficient. Your energy bills will not be affected much.
It is easy to operate and allows storage of four bottles vertically and eight horizontally.
Blends well with other kitchen appliances.
Operates silently, you can sleep with it in your bedroom. Great for those living in a studio apartment.
Does not vibrate when in the running. Your wine's sediment, therefore, remains undisturbed just like in a wine cellar.
Cons
The door is a little fragile. You have to open it with care to avoid making it come off the hinges.
This is not a chiller. You can only use it to store wine down to 53 degrees Fahrenheit. Fine for reds, but whites might need extra chilling before serving.
Conclusion
Even though you will not be able to use this model to chill your white wine, you can happily use it to store both reds and whites without ruining their unique character. I like it that I can have a micro wine cellar at my kitchen counter. And the vertical orientation of this unit gives it a very small footprint on your countertop. The ability to store 4 open bottles upright is another unique feature that will appeal to some. It would make a special gift for any wine lover you know.

Review Summary
Reviewed by
Date
Item
Avanti 12-Bottle Thermoelectric Countertop Wine Cooler
Our Rating