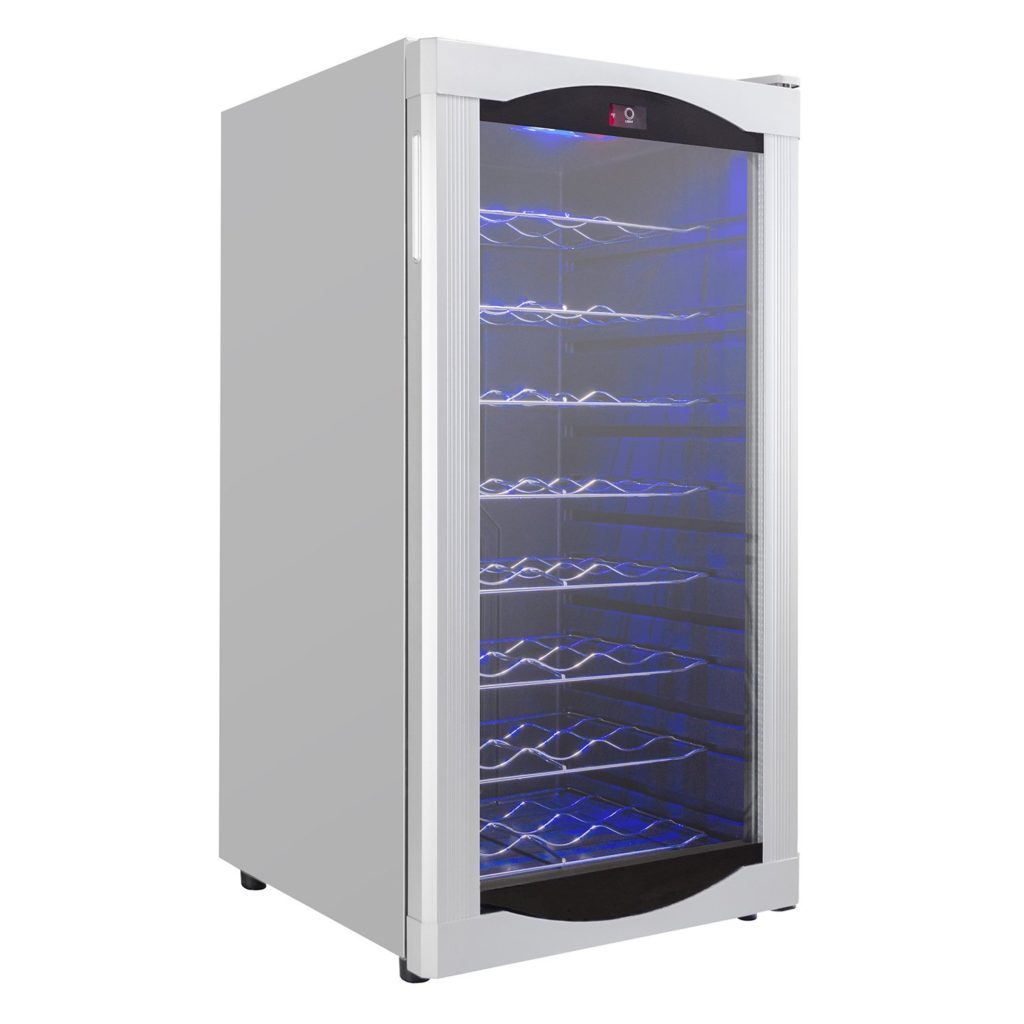 What happens when you want to enjoy the silky taste and authentic aroma of your favorite wine beverages? Well, a worthwhile choice for you would be to keep the wine at the appropriate temperatures. Serving your vino too cold may cause it to lose its consistent taste while warm temperatures might speed up the aging process. Nonetheless, whether you are an aspiring wine connoisseur or an experienced wine taster, you don't have to spend a significant amount of money to develop a property with a wine cellar underground. Instead, an excellent investment would be to get the AKDY 32-Bottle Single-Zone Wine Cooler, which is designed to provide solid performance at impressive affordability.
Product Details
Double Transparent Glass Window and Environmentally friendly design
This wine cooler features a sleek and contemporary design tailor made for people who appreciate quality products in life. To be specific, it comes with a double transparent glass window that lets you view your wine bottles without the necessarily having to open the cooler itself. By the same token, this particular design makes it stand out from the conventional wine coolers that are available on the consumer market today. Users will also appreciate the environmentally friendly design that is intended to mitigate the effects of harmful CFCs and with low energy consumption and efficient heat dissipation.
Electronic touch-pad control provides precise temperature adjustments.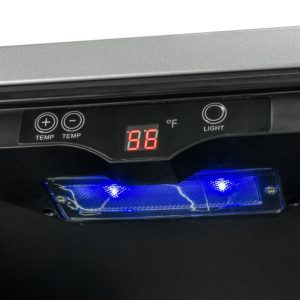 Another equally important feature on this AKDY freestanding wine refrigerator is that it comes with an electronic touch-pad. This allows for precise temperature adjustments for your unique needs. More so, the electronic touch-pad is well positioned for easy accessibility. It also comes with LED lighting to provide the ideal visibility levels especially in poorly lit conditions.
LED Lighting Inside and chrome-plated chrome
Further lending to the superior design of this wine cooler is that it comes with LED lighting on the interior. It attractively illuminates and displays your exclusive wine collection. Simply put, this wine cooler cannot only store your favorite wine beverages, but it also lets you do so with class and style. Furthermore, it also comes with eight full-width, chrome plated shelves and provides more than sufficient space to store 32 conventional bottles of wine.
Thermoelectric fan cooling system and sleek design
This medium capacity freestanding wine cellar makes use of a thermoelectric fan cooling system. The advantages are this is highly silent in operation and has a low vibration level as well. Moreover, this unit also comes with a sleek and contemporary design that makes it stand out from the conventional wine coolers. In particular, the wine cooler features a silver colored cabinet with stainless steel door trim. This makes it an excellent addition to any décor.
Pros
I like how this wine cooler comes with a chrome plated design and LED lighting inside
You will be surprised at a how silent this wine cooler is in operation
I also liked how this wine cooler can store as many as 32 bottles of wine. The average person won't need more than this unless they're a real serious collector.
Cons
It is a thermoelectric unit instead of a compressor thereby making it sensitive to the temperature of the room
I sometimes have to remove the shelving to accommodate my larger wine bottles, but at least they can be accommodated.
Summary
Given all these points, when it comes to storing your favorite wine beverages, then this model would be a solid choice. I would recommend it more for someone who wants to keep a large quantity of red wines at home. The thermoelectric style cooler is good for keeping wines at a fair storage temperature. Its also nice for keeping reds at an ideal serving temperature, but is probably not going to chill white wines to their best serving temp.

Review Summary
Reviewed by
Date
Item
AKDY 32-Bottle Single-Zone Wine Cooler
Our Rating