If you've got a wine lover on your Christmas gift list this year, consider yourself lucky. Holiday shopping can be very stressful for a lot of people, but it doesn't need to be. If you already know that your friend or family member loves wine, choosing the best gift for them is much easier. You also have options in lots of price ranges when thinking about gift ideas for wine lovers—everything from small wine accessory stocking-stuffers for your work colleagues on up to a wine fridge for your spouse.
Of course, you could always buy some nice wine as a holiday present for your wine-loving friend or family member, but then your gift would disappear as soon as the bottle is empty. On the other hand, there are many practical and useful wine-drinking accessories that any wine lover on your wishlist would be sure to enjoy.
So without further introduction, here's my list of the 10 best Christmas gifts for a wine-lover this year.
Cooko Rabbit Wine Opener Set
Any wine aficionado would love to have an elegant wine opener set such this deluxe 9-piece wine opener set by Cooko. The high-quality metal tools and accessories come in a beautiful wooden box. It's the perfect present for a wine-lover without blowing your holiday shopping budget.
The set includes:
Rabbit-style lever corkscrew wine opener
Foil cutter
Pourer
Aerator
Collar
Stopper
Thermometer
Two extra screws
This set is presented nicely in a classy wood box. The rabbit corkscrew opener makes opening bottles a piece of cake. Any wine drinking friend is going to get a lot of use out of this set.
Oster Cordless Electric Wine Bottle Opener
Oster makes the best-selling electric wine bottle opener. It's super easy to use. First, cut the label using the foil cutter and remove any part of the label covering up the cork. Then simply insert the top of the bottle into the opener in an upright position, press the switch, and the bottle opener does the rest. The corkscrew will screw into place and then pull the cork up effortlessly. Afterwards, the screw reverses direction and it spits the cork right out.
No more straining any muscles or popping anyone's eyes out with wayward corks. Opening the bottle just got a lot more fun with this little guy. It's cordless, rechargeable, looks slick, and works great. What's not to love?
Vacu Vin Wine Saver
As much as we all love drinking our wine, there are times when we just can't finish an entire bottle. Wine drinkers who live alone know what I'm talking about. The good news is that an opened bottle of wine can still be good for a few days, but during that time it's a race against oxidation. The Vacu Vin Wine Saver really helps preserve opened bottles by sucking out excess air to keep the precious wine inside from going bad too quickly. It's a great, affordable gift for any wine lover, and the small size also makes it a perfect stocking-stuffer.
Vintorio Wine Aerator Pourer
I don't know why, but wine is always a little messy to pour straight from the bottle. It's also pretty good at leaving stains on tabletops, so any tool to help your wine buddy pour better will be much appreciated.
Most casual wine drinkers don't take any steps to help aerate their wine, and by neglecting this point, they're missing out on getting the best flavor. The Vintorio Aerator Pourer makes it easy to aerate wine right as it's poured from the bottle. This will help the wine "open up" right away, so it tastes great from the first glass.
RÖD Wine Red Wine Glasses
Speaking of glasses, did you know that the right shape of wine glass can actually help improve the taste of wine? The first time I ever ordered red wine in a restaurant I wondered why they served it in such a huge glass and didn't fill it up close to the top. But now I know that this is done to maximize the surface area, putting the wine in contact with more air to open up the flavor.
A set of proper red wine glasses will greatly enhance the drinking experience for any wine lover you know. These RÖD Wine Red Wine Glasses are the best I've found for giving away as a gift. Not only is the quality of the glasses excellent, but the packaging is top notch. The glasses are well-protected from damage and the box looks fantastic. If you want to give wine glasses that will impress, these are the ones to choose.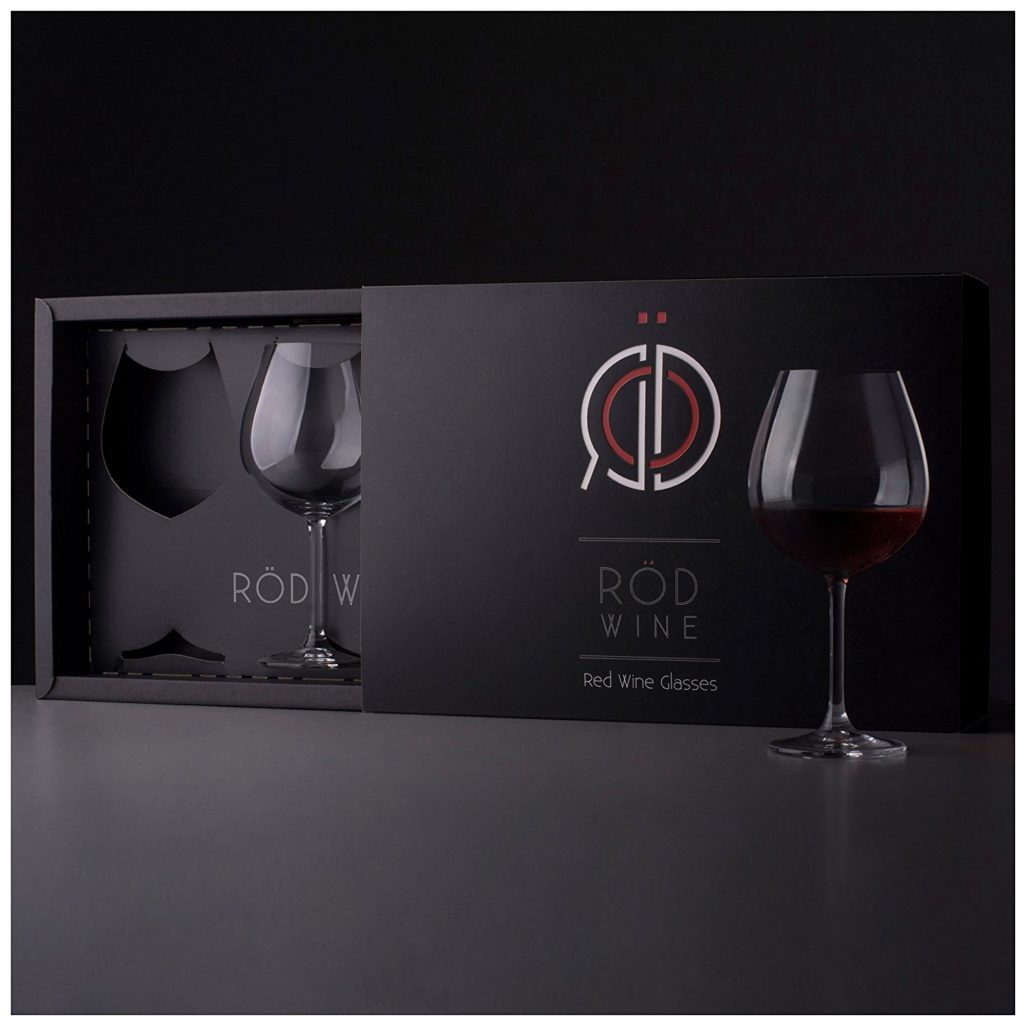 Le Chateau Wine Decanter
The old-fashioned method of aerating wine is to pour the contents of the bottle out into a decanter. This specially designed wide-bottomed glass vessel is the perfect shape for allowing oxygen to mix with the wine. Most wine will taste noticeably better after it has been given a chance to "breathe". This decanter by Le Chateau is a lovely piece of glasswork. It's both beautiful and functional, with a shape that allows maximum wine aeration, is easy to pour, easy to wash, and dries quickly.
Vacu Vin Prestige Stainless Steel Tabletop Wine Cooler
White wine should be served ideally between 45-50 degrees Fahrenheit. You can store your bottles in a wine fridge or cooler to get down to this temperature, but what happens after you pop the cork. If you're the type who enjoys a bottle of white wine in the summer while sitting out on the patio, you're only too well aware of how quickly the bottle will warm up once it's no longer in the fridge. Vacu Vin's Tabletop Wine Cooler is the perfect solution to this problem.
This single-bottle wine chiller is as simple and effective as they come. No electricity or moving parts, and no ice or water mess to deal with. Rather the Vacu Vin cooler has a gel-filled insert that you store in the freezer prior to use. When you want to enjoy your wine, you simply insert the cold gel core inside the stainless steel shell. After popping the cork, slip your wine bottle inside, and it will stay nice and cool for hours.
So sit back, relax, and sip your wine slowly as it was meant to be enjoyed.
Magic Chef 6 Bottle Countertop Wine Cooler
An excellent mid-priced gift for a casual wine drinking friend or relative is this small, countertop wine cooler by Magic Chef. It holds up to 6 bottles without taking up much space. They'll love how it cools their bottles down to a nice storage and serving temperature.
Avanti 12 Bottle Countertop Wine Cooler
If you think your wine loving gift recipient would appreciate room for storing up to 12 bottles, then the Avanti Countertop Wine Cooler is one of the best you can buy. The intelligent design of this model has space for 2 bottles to be stored in upright position, making it perfect for those who often end up with unfinished bottles.
Kalamera 18 Bottle Wine Refrigerator
For more serious wine cooling and storage, your wine-drinking loved one will really enjoy the Kalamera 18 Bottle Wine Refrigerator. This unit uses compressor cooling that enables it to powerfully chill down to the set temperature and hold it steady regardless of ambient room temperature fluctuations in the outside environment. It has a width of just 12 inches, and can be used as either a stand-alone or built-in wine fridge.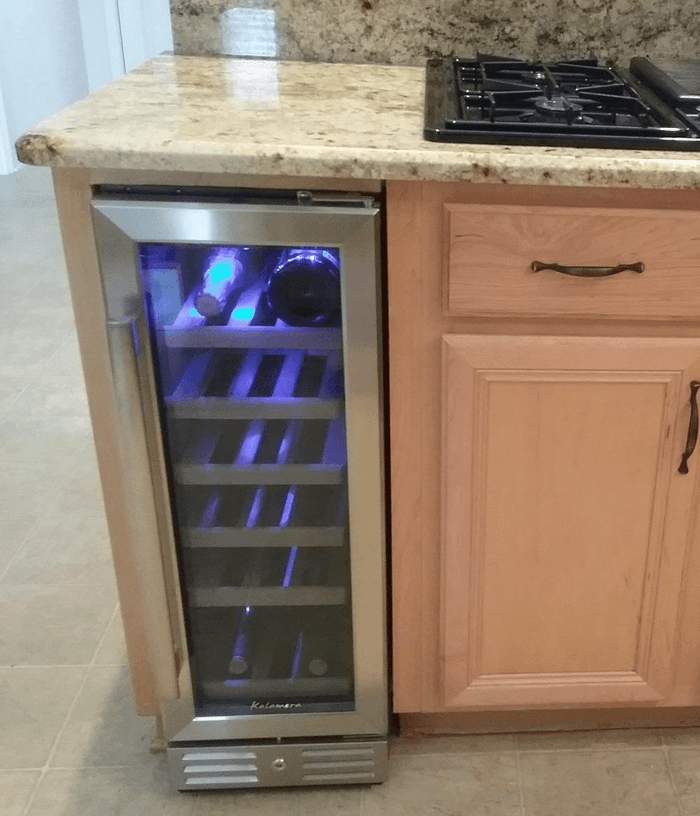 It looks especially slick when placed under the countertop and with the blue LED light glowing inside. This is an awesome gift to get for your husband or wife when you can plan out the exact spot in the kitchen where it should go.
Yes, it's more pricey than the thermoelectric coolers above, but it's also bound to impress that special someone in your life who enjoys wine.