Why a site for wine cooler reviews? Because I know how important it is to pick the best wine fridge for your home. Nobody wants to drink wine that is too warm or too cold. Just like in the story of "Goldilocks and the 3 Bears"—perfect temperature is important.
To read my latest wine fridge reviews click here.
Otherwise, please read on for general information on wine drinking and wine refrigerators, and to see my recommendations for the best wine cooler in each of several categories. You can also scroll down to have a look at the wine cooler comparison chart, where you can sort various wine fridge models by brand, capacity in bottles, and other criteria to help you select the best wine cooling unit for your home.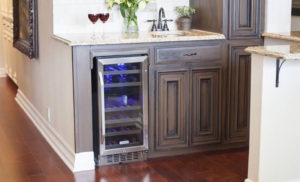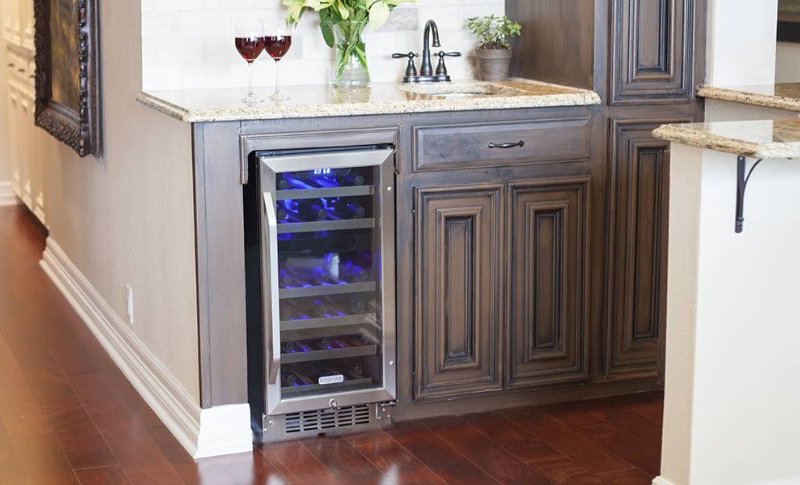 Wine is a simple pleasure that humans have enjoyed for thousands of years. It is quite possibly the most celebrated beverage in history. Over the years, the production and storage of wine has become increasingly sophisticated. While the ancients made due with large ceramic jugs and underground cellars, nowadays we have access to modern wine coolers and refrigerators.
We are living in a golden age of wine consumption with precise control over wine storage and serving temperatures. Not only does the average person have access to wine from all over the world right at their local supermarket—they also have the technology and ability to enjoy wine at the optimal temperature. Even Roman emperors didn't enjoy such luxury!
Why You Need a Wine Cooler
As we all know, good wine isn't exactly cheap. If you're a regular wine drinker who enjoys a couple bottles per week, it's easy to spend several thousand dollars per year on vino. If you're not making use of a wine cooler to keep your bottles at the ideal temperature, then you're essentially throwing money away by purchasing good quality wine to begin with. Sure, it's still going to taste better than the super cheap stuff, but you're not maximizing your drinking experience. Spending a couple hundred bucks one time on a decent wine fridge will allow you to get the most out of your wine for years to come.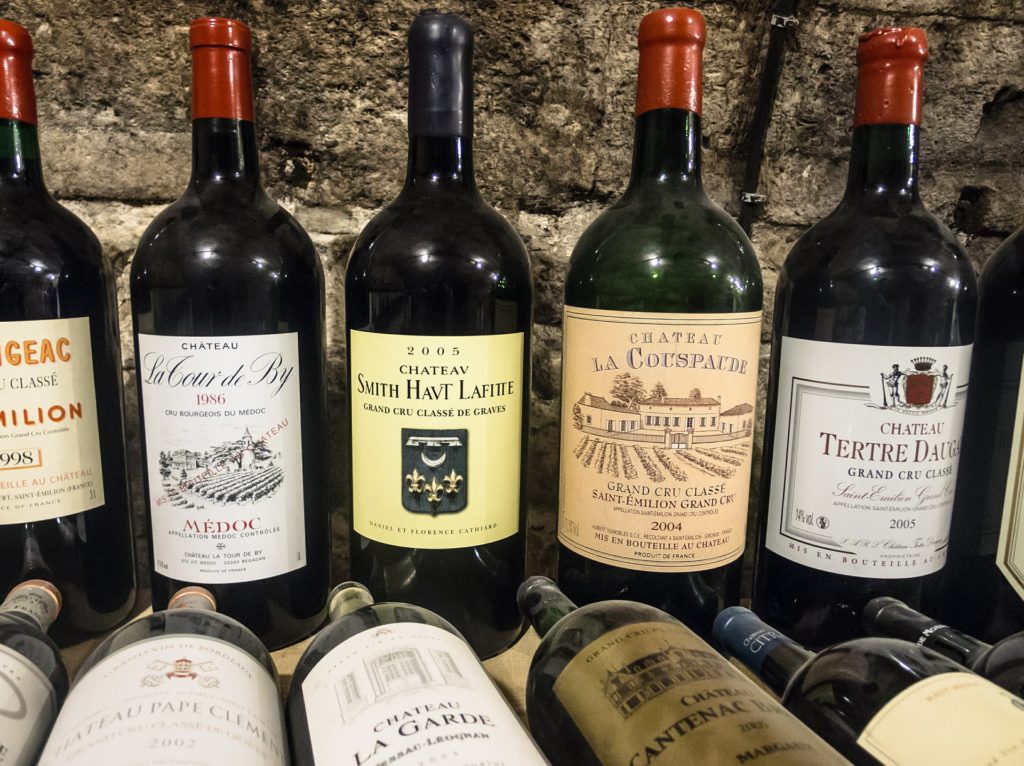 Can you keep wine in a regular refrigerator? Well, you can, but it's not ideal. Maybe you've heard that white wine should be chilled and red wine served at room temperature, so you thought keeping reds on a shelf and whites in the fridge would be fine. The problem is this will make your whites too cold and reds too warm. "Room temperature" for red wine was a fine guideline for drafty pre-modern European homes with no central heating. Back then the ambient room temperature was closer to the 63°F (17°C) recommended for enjoying Cabernet Sauvignon.
Humidity is another key factor in longterm wine storage. The air inside a typical refrigerator is too dry and can cause the cork to dry out over time. Shrinkage of the cork due to drying will allow oxygen to enter the bottle, which can cause the wine to oxidize and spoil.
What's the difference between wine storage and serving temperatures? The ideal temperature for storing wine of all types is around 55°F (13°C). Reds are best enjoyed when served slightly warmer and whites best enjoyed when served slightly cooler than this. The degree to which depends on the variety. Leaving red wine to sit on a shelf in a warm room for long can lead to a destruction of flavor. A wine cooler can help you keep your wine cool enough to preserve its flavor without subjecting it to the harmful effects of overly-dry air, excessive cold, vibration, and contamination by food odors found in your kitchen refrigerator.
Types of Wine Coolers
I'm by no means a wine snob, and I don't expect you to be one either. If you're fairly new to enjoying wine as a hobby then you may not know much about the different types of coolers on the market. Based on your wine drinking habits you can get an idea of which style of cooler would be best to fit your needs. The choice of a single or dual zone cooler will likely come down to your wine preferences.
The location of your wine cooler in your home will be another factor. If pressed for space, then a large freestanding cooler might not work so well. On the other hand, a built-in cooler needs to be planned out and you've got to measure the space available under your countertop to make sure it will fit.
As the name suggests, these coolers contain a single area which is cooled to one temperature. Single zone coolers are ideal if you predominantly only drink either reds or whites. A large single zone cellar-cooler is also good for long-term storage of both types when set to the ideal 55°F (13°C). If you go this route, then your whites would need a little extra chilling before serving.
Dual zone coolers contain two individually controlled areas so that you can keep bottles at two different temperatures. This style of cooler is the natural choice if you want to enjoy both red and white wine regularly. You can, for example set the controls to keep your Chardonnay 50°F (10°C) and Pinot Noir 55°F (13°C). You could also use a dual zone cooler to keep most of your collection at a storage temp and use the smaller zone to bring a bottle or two for the evening to the precise serving temp.
Countertop wine coolers are small units that typically hold anywhere from 6-12 bottles of wine. They're great for the casual wine drinker who doesn't plan on accumulating a large collection anytime soon. If you're just getting into wine and looking for a starter wine cooler I'd recommend one of these.
Freestanding Wine Coolers
Freestanding coolers are like a little piece of furniture to go in your kitchen. You'll want to make sure you've got enough room in the spot you intend to put it. They usually perform best when there is a few inches of space at the back. If you've got a large wine collection—or have ambitions to start one—a freestanding model might suit you best. The smaller freestanding models are going to start with around a capacity of 24 bottles, while the larger models go up to 80 or even over 100.
Built-in wine coolers are designed to fit seamlessly into your home decor. Many are under the counter models, while some larger ones are just under 6 feet tall like a regular stand-up fridge. These are of course ideal models when you want to keep your kitchen area uncluttered, with your appliances flush to all your cabinets. If you're really serious about wine collecting, then a built-in model is probably the way to go.
Top Recommended Wine Coolers
Choose the best wine cellar cooler for your home with our expert advice. We've reviewed all the top wine fridges to come up with recommended models to buy based on your individual needs.
Best Budget Wine Cooler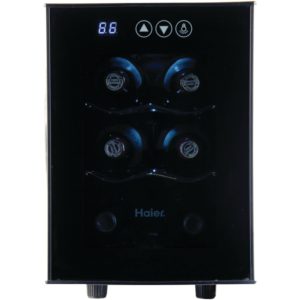 Are you just learning about wine coolers and don't think you'll need anything huge? Maybe your space in the home is quite limited. Or maybe you decided that a small wine cooler would make a great gift, yet your budget is limited.
For the best budget wine cooler, I'm going to recommend the Haier 6-Bottle Wine Cellar. It's a compact and attractive model with a price tag under $100. Click here to read the full review.

Best Value Countertop Wine Cooler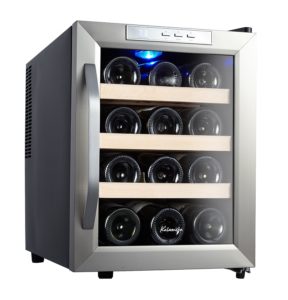 Let's say you want a smaller sized wine cooler to fit on your countertop, but you're also looking for the best value for your money. Or maybe you want to buy a special gift for a wine-loving friend whom you want to impress, and your budget isn't terribly limited.
For the best value countertop wine cooler I would go with the Kalamera 12-Bottle Thermoelectric Wine Cooler. For under $150 you can get this beautiful model featuring wood shelving and holding up to 12 bottles. Overall, it's an excellent value buy. Click here to read the full review.

Best Freestanding Wine Cooler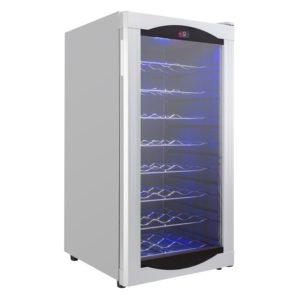 Are you more interested in a freestanding model? Maybe you've got more space to work with in your kitchen, dining room, or private bar area. You're also an avid wine collector who would be keen to pick up a wine fridge that can hold up to 30 bottles or more.
For the overall best freestanding wine cooler, I would go with the AKDY 32-Bottle Single-Zone Wine Cooler. It's not big on whistles and bells, but it does exactly what it's supposed to do very well—cool your wine. Click here to read the full review.

Best Built-in Wine Cooler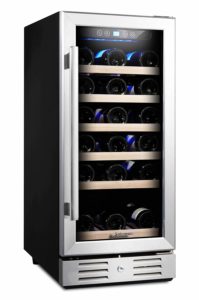 Are you in the market for a built-in wine cellar? Something that can fit under your counter? A high quality built-in wine cooler can be a great addition to any kitchen. Store your wine the right way while making a statement.
For the best built-in wine cooler, I would not hesitate to recommend the Kalamera 30-Bottle Built-in Wine Refrigerator. It's a compressor model, so the cooling power is maximized. It also features wood shelving and a generous capacity of 30 bottles. Click here to read the full review.

Best Wine Fridge Under 200 Dollars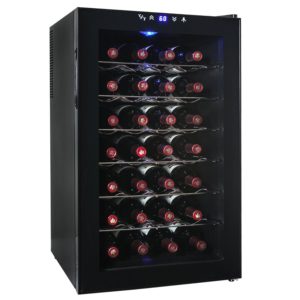 Is a single-zone cooler sufficient for your needs? Maybe you'd like a nice one to keep a fair sized wine collection in storage. You don't want to spend a ton of money, but you want the most bang for your buck.
Specifically, you've got a budget of no more than $200 to spend on a wine fridge, and you'd like to maximize your value by getting one with at least 25 bottles capacity.
For the best wine fridge under 200 dollars, I would point you in the direction of the AKDY 28-Bottle Freestanding Wine Cooler. At a price just shy of $200, and with the ability to store up to 28 bottles, this model really does give good value. Click here to read the full review.

Best Dual Zone Wine Cooler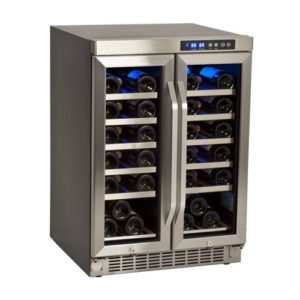 Are you a fan of both reds and whites? Are you a perfectionist and demand that a wine cooler chill each to perfect serving temperatures? If that's you, then you'll want a dual zone model, and also one with a compressor that really has the power to chill your whites as low as you'd like.
For the best dual zone wine cooler, I suggest you check out the EdgeStar 36-Bottle Dual-Zone French Door Wine Cooler. Each zone has space for up to 18 bottles, and both can be reliably cooled all the way down to 40 degrees F. Click here to read the full review.

Best Large Wine Refrigerator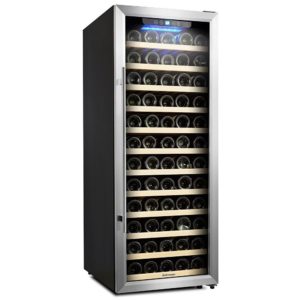 Let's say you want to start a sizable wine collection. You're looking for a larger freestanding model with a capacity of 75 bottles at the minimum. You'd be wise to select a compressor model that has the power to protect your valuable vintage bottles from unexpected ambient heat.
For the best large wine refrigerator, I would recommend that you get the Kalamera 80-Bottle Freestanding Compressor Wine Cooler. Not only is it extremely reliable with a large capacity of up to 80 bottles—but it also looks gorgeous with slick beech wood shelving. Click here to read the full review.

Wine Cooler Brands
There are a number of companies competing to produce the best wine coolers. The following brands all have models that we could recommend purchasing.
Wine Coolers Comparison Chart
I've put together this handy chart to help you compare different wine fridge models. Click on any of the column headings to reorder the rows of the chart. Click on the button in the last column for any model to see its current selling price at Amazon.
| Cooler | Brand | # of Bottles | Zones | Type | Cooling Type | Price |
| --- | --- | --- | --- | --- | --- | --- |
| | AKDY | 28 | Single | Free Standing | Thermo-electric | |
| | AKDY | 32 | Single | Free Standing | Thermo-electric | |
| | Avanti | 12 | Single | Counter Top | Thermo-electric | |
| | EdgeStar | 36 | Dual | Built In | Comp. | |
| | FireBird | 8 | Single | Counter Top | Thermo-electric | |
| | FireBird | 28 | Single | Free Standing | Thermo-electric | |
| | Haier | 6 | Single | Counter Top | Thermo-electric | |
| | Igloo | 8 | Single | Counter Top | Thermo-electric | |
| | Igloo | 12 | Single | Counter Top | Thermo-electric | |
| | Kalamera | 12 | Single | Counter Top | Thermo-electric | |
| | Kalamera | 30 | Single | Built In | Comp. | |
| | Kalamera | 80 | Single | Free Standing | Comp. | |
| | Koldfront | 18 | Dual | Free Standing | Thermo-electric | |
| | Koldfront | 24 | Dual | Free Standing | Thermo-electric | |
| | NewAir | 28 | Single | Free Standing | Thermo-electric | |
| | Allavino | 30 | Dual | Built-in | Comp. | |
| | Avallon | 23 | Dual | Built-in | Comp. | |
| | EdgeStar | 30 | Single | Built-in | Comp. | |
| | EdgeStar | 26 | Dual | Built-in | Comp. | |
| | NewAir | 29 | Dual | Built-in | Comp. | |
Compressor Refrigerators vs Thermoelectric Cooling Technology
When it comes to wine cellar-coolers, there are two basic types of cooling technology that are used: compressor units and thermoelectric ones. Which type is right for you? Let's look at how each type works, along with the advantages and disadvantages.
Compressor Wine Fridges
A compressor wine fridge basically uses the same technology as a standard refrigerator—you know, the big one in your kitchen full of food. It uses a vapor compression cycle, which is also the same idea behind the air conditioners that cool your home or office.
A refrigerant, or coolant gas, is used to convey heat from inside the unit and release it on the outside.
Advantages of Compressor Units
Compressor units are basically more powerful at cooling air when compared to thermoelectric units. They work better at cooling to low temperatures and for cooling large wine fridges. Most thermoelectric coolers can only cool down to about 50 degrees Fahrenheit, but a compressor unit can easily chill its contents down to the 40's.
If you like to store light-bodied white wines at their preferred drinking temperature, then a compressor unit is great to have. The most ideal long-term storage temperature for both whites and reds is said to be around 55 degrees, however, so it is not absolutely necessary to have a compressor model for long-term storage and wine collection.
The other big advantage is that compressor units are better at cooling a larger sized unit. So if you intend to keep a large collection, this could be a key point to consider.
Another thing to mention is that compressor units aren't effected by the ambient temperature of the area they are located in. This is not the case for thermoelectric units. This makes compressor units more temperature stable and a little more reliable. If you have a big collection of expensive wines, you might trust it to be stored in a compressor unit more.
Disadvantages of Compressor Units
There are 2 main disadvantages of compressor models, and that is they are a little noisier and cause the contents to experience more vibration. Excessive vibration is bad for wine storage because it disturbs the sediments in the bottle. If going with a compressor unit, it is best to pick a model that is known for minimizing the vibrations.
Thermoelectric Wine Coolers
Thermoelectric coolers make use of technology based on the Peltier effect. This phenomena is named after the 19th century scientist who first made this discovery. He noticed that passing an electrical current through 2 plates of different metals which had been fused together would cause heat to build on one side of the plates and be removed from the other side. It is essentially a simple heat transfer that does not require any moving parts. Thermoelectric wine coolers typically have one or more fans inside, however, to evenly distribute the cooler air throughout the interior of the unit.
Advantages of Thermoelectric Coolers
One huge advantage of thermoelectric coolers is that they are very quiet. The only noise noticeable would be coming from the spinning of the fans, and it is usually barely detectable.
Another good point that thermoelectric units have is very low or no vibrations. Again, the only moving parts that the unit contains are the small fans employed to circulate and evenly distribute the cooled air within. Thermoelectric coolers tend to be very good at not shaking or disturbing the bottles in any way.
Thermoelectric units are also able to be built smaller than would be feasible with a compressor unit. For this reason, almost every countertop wine cooler—and pretty much every model built to hold 12 or less bottles—is going to be one that uses thermoelectric cooling technology.
Disadvantages of Thermoelectric Coolers
While they can be built smaller than compressor models, thermoelectric coolers are not as good at cooling large interior spaces. For this reason, they are not as practical for larger wine fridges intended to store 60 bottles, 80 bottles, 100 bottles, and so on.
Another disadvantage is that thermoelectric coolers are somewhat dependent on the ambient external air temperature. They are only able to cool the interior space of the unit to about 20 degrees Fahrenheit cooler than the outside room temperature. So if you allow your home interior to get up into the 80's, a thermoelectric wine cooler would have trouble keeping its contents down at the 55-degree range recommended for long-term storage.
The point above, of course, means that the minimum temperature a thermoelectric cooler can reach is usually right around 50 degrees depending on how warm or cool you keep your room. For wine storage and keeping reds at serving temperatures this is not a problem. It just means that a thermoelectric cooler would not be an ideal model if your intention is to keep white and sparking wines on hand at the desired serving temperature.
Which is Right for You?
Based on the above information, you should be armed with the knowledge to determine which type of cooler is better for you according to your own specific needs. In my personal case, I heavily favor red wines and enjoy the convenience of having a small unit that can fit in many spots around the house. So a thermoelectric unit works for me. Those who want to keep a very large collection and have sparkling wines chilled to lower temps should look into compressor options.
Helpful Tips and Info for Enjoying Wine
Wine is a fine drink that should be enjoyed by the masses. The reputation of wine as an elitist beverage for know-it-all snobs is unfortunate. If regular people like you and I knew more about wine, we'd feel less intimidated by all the foreign words and fancy talk that come with the territory. I'd like to help more people learn about wine so they can make the most of this wonderful treat in life.